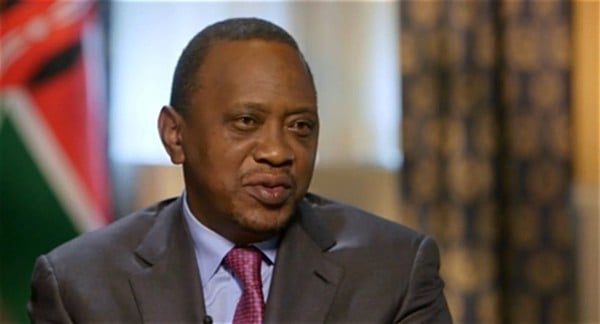 CNN's Fareed Zakaria sat down with Kenyan President Uhuru Kenyatta on GPS over the weekend and covered a broad range of topics, one of which was gay rights and the persecution of gay people in Kenya.
You may recall that over the summer President Obama and Kenyatta had something of a face-off on the issue during Obama's visit there.
Obama told Kenyatta, "When you start treating people differently not because of any harm they are doing to anybody, but because they are different, that's the path whereby freedoms begin to erode."
Zakaria pressed Kenyatta on his reasons for rebuffing Obama.
"The problem for many in the west is that it's not really seen as a matter of cultural values it's seen as a matter of innate human rights that these people are – you know that you are in effect depriving people of their rights merely because of something that is God-given," said Zakaria. "That is – that they were born with, that there is increasing scientific evidence that this is the case. And why would you persecute people for something that they have ultimately no control over?"
Said Kenyatta:
"Let me make it clear to you and put it this way, right. I think first and foremost we're all saying that whatever society you come from right, the principal aim is that you must give the people you know their right to choose, all right? Now where we are and at the level of development that we are in, I am not saying that these people don't have their rights, that's not what I'm saying. I am just saying that the majority – the majority in our society yes, do not wish to legalize, yes, this issue of gay rights."
Kenyatta replied that the people of Kenya have no desire to address the issue at this time, but he won't allow gay people to be persecuted.
Watch:
Kenyatta continued (not in the clip above) that he won't allow mobs to take the issue into their own hands:
"What I'm saying witch hunts – what I am saying is witch hunts. You know we won't allow people to take the law into their own hands and harass and no we won't. All right. Every individual has a right to be protected by the law and that's stated in our constitution, all right. But what we are saying is that as a society, right, we do not accept some of these values, right. And this is where I am saying we have to get synergies. You're not going to create the United States or Great Britain or the Netherlands in Kenya, or in Nigeria or Senegal overnight. We have to understand that these are processes and they take time."