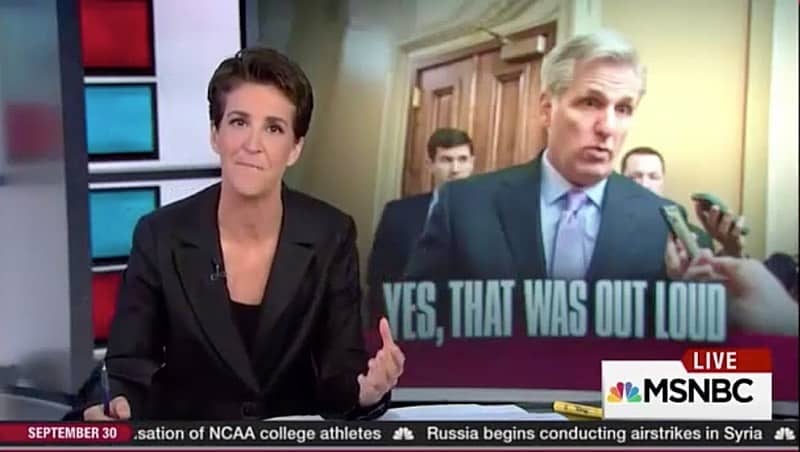 Rachel Maddow took a look last night at Kevin McCarthy, the frontrunner to replace John Boehner as Speaker of the House, a position which would make him third in line to the presidency, and his stunning admission that the Republican-led Benghazi 'political attack committee' was just that.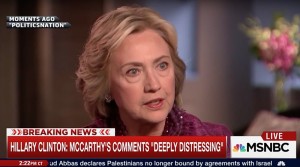 But first, Maddow hilariously looks at McCarthy's questionable intelligence and inability to speak properly. For instance, McCarthy once said this:
"It had to be hundreds of thousands of grandchildren to make that decision. We don't have the same as difficult decision but this White House is managing the decline in putting us in tough decisions for the future."
You figure it out.
Maddow also notes that just yesterday we saw bombing of Syria by Russian and U.S. forces, as well as U.S. airstrikes and ground action in Afghanistan.
Are we as a country up to the challenges with McCarthy as House Speaker???
Finally, she gets to McCarthy's shocking admission to Sean Hannity about the Benghazi committee.
"The question you really want to ask me is how am I going to be different? What you're going to see is a conservative speaker that takes a conservative congress that puts a strategy to fight and win. Everybody thought Hillary Clinton was unbeatable, right? But we put together a Benghazi special committee. A select committee. What are her numbers today? Her numbers are dropping. Why? Cause she's untrustable. But no one would have known any of that had happened, had we not fought and made that happen."
Now that calls for the committee to be disbanded have returned, Maddow wonders whether Democrats will continue to sit in those seats.
Watch:
https://www.youtube.com/watch?v=4XMnRtHdpbg
And here is Hillary Clinton's response to McCarthy's admission: