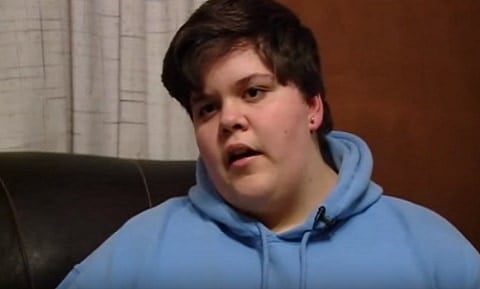 Lawyers for a Virginia transgender student facing off against a school board's restroom policy have asked a federal appeals board to reassign the case because of the current judge's lack of sensitivity to the issue.
16-year-old Gavin Grimm's representatives argue that a Gloucester County School Board policy requiring students to use facilities that correspond with their "biological gender" or gender-neutral single-person restrooms is a violation of Title IX of the Education Act of 1972, which bans discrimination based on sex, reports BuzzFeed.
Grimm had sought an injunction to use the boys' restroom at school while the case proceeds to trial. U.S. District Court Judge Robert Doumar, an 84-year-old Reagan appointee, rejected that request and threw out the Title IX argument.
Grimm's lawyers now claim that Doumar holds preexisting views about transgender people and medical science that may compromise his judgement.
At a hearing in July, Doumar repeatedly called gender dysphoria a "mental disorder" and ignored expert testimony on the condition.
The brief argues that Doumar's "repeated and gratuitous labeling of [Grimm] with a 'mental disorder,' does not reflect the sensitivity or care the public should expect from courts addressing these issues. It undermines public confidence in the fairness of the proceedings if courts appear unwilling to ensure that statements from the bench do not carelessly stigmatize transgender people."
It continues:
"In short, the record reflects that [Doumar] has strong opinions about medical issues and may be inordinately suspicious of the modern medical consensus regarding sex and gender if that consensus conflicts with its preexisting views.
"The court's medical opinions even extended to unfounded skepticism that a person could develop a urinary tract infection from delaying using the restroom."
The brief also asks the appeals court to impose the requested injunction and review the Title IX argument.
The Gloucester County School Board has argued it is not violating Title IX because it applies its policy equally to students based on their birth sex.
Watch a report on the case below.
https://www.youtube.com/watch?v=R-e3RsIx8_k