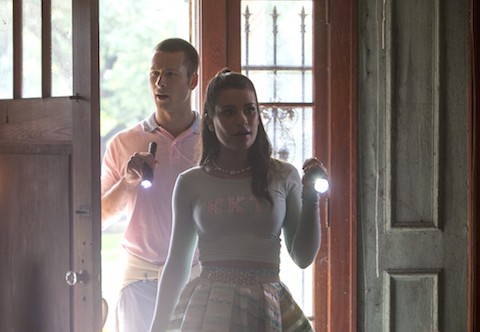 Check out our weekly guide to make sure you're catching the big premieres, crucial episodes and the stuff you won't admit you watch when no one's looking.
— Scream Queens airs the third installment in its Halloween arc this week, promising the series' bloodiest hour yet. Who will still be standing? Find out Tuesday at 9 p.m. on Fox. (Haven't caught up on the series yet? Check out our weekly recaps.)
Looking to tune in to something a little less spooky? We've got more picks for TV this week below.
https://www.youtube.com/watch?v=ww7FwF1tbW4
— If the title of the CW's quirky new comedy Crazy Ex-Girlfriend kept you from checking out the hilarious new series, maybe the clip above will pique your interest. In it, the series protagonist (played pitch perfectly by comedian Rachel Bloom) sings an ode to the lengths ladies go to get ready for a night out. It encapsulates the show's twisted blend of music and comedy. See the latest episode tonight at 8 p.m. Eastern on the CW.
— LGBT fitness icon Jillian Michaels embarks on her latest no-nonsense television series. This time it's a little bit Biggest Loser and a little Shark Tank. On Sweat Inc., she's working with fitness entrepreneurs to find the next Zumba or SoulCycle or CrossFit. Get ready to sweat (and probably get yelled at, at least a little bit) Tuesday at 10 p.m. Eastern on Spike. Just keep the carbs where Michaels can't see them. (Just kidding, this is a gay blog, no one is eating carbs here.)
— This Friday, get a front-row seat for Billy Elliot the Musical Live. The show, featuring music by gay icon Elton John, is kicking off this season of Great Performances at 9 p.m. Eastern on PBS.
https://www.youtube.com/watch?v=M59zWXV0zT0
— One of the most prominent openly-gay politicians in history, Barney Frank gets the spotlight in a documentary debuting Friday at 9 p.m. Eastern on Showtime. Compared to What? The Improbable Journey of Barney Frank is an intimate portrait of the Representative from Massachusetts, including his marriage to Jim Ready in 2012.
What are you watching this week on TV?