Like many of us, RJ Aguiar is kept up by nagging thoughts at night, arguing with himself over things that might happen, second-guessing his choices, and worrying about possible disasters that might befall him in his professional and personal life.
Sound familiar?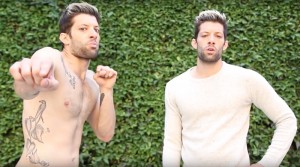 Anxiety can be and often is irrational, so if you've been kept up at night this week, or are having trouble getting to sleep, RJ has some logic and humor to help you through it.
"One of the things that makes anxiety so difficult to control is the fact that it speaks with your voice, so if you're not that well acquainted with it then it can be a challenge trying to determine the difference between its thoughts and your own," he explains.
Writes RJ: "What if you're just the kind of person who worries about stuff? Is that the same thing? The reality is that anxiety is something that we all experience. And around 18% struggle with some kind of anxiety disorder. The problem is that there are so many different triggers and risk factors and types of anxiety problems, that it's hard to address the problem in one single way."
Check out RJ's anxiety tutorial: