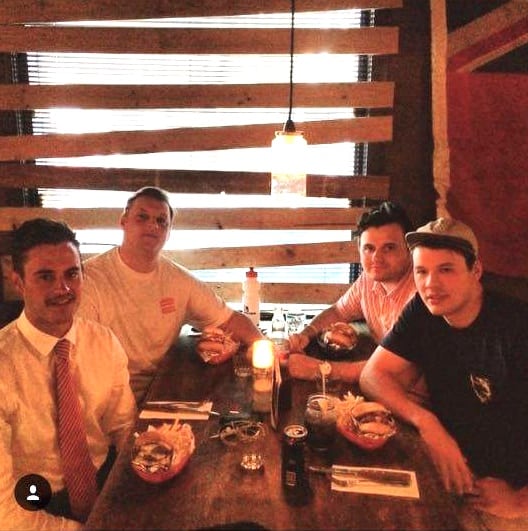 A group of upstart food bloggers from Melbourne, Australia won't be returning to The Beaufort and Ikes, a burger joint in Victoria, after their homophobic review riled the restaurant's owner.
Burger Bunday, as the group calls itself, gave the restaurant a fairly decent review, but couldn't help but complain about the two girls playing pool who were "probably bean-eating rug munchers", one of whom "looked like a bloke."
In response to their review  on Instagram, which you can read below and has since been deleted, Ike's Rack Shack owner Dave Kerr penned a scathing response:
"Ahh, the old @burgerbunday. Bit of casual racism and a dash of homophobia. F–king good review c–ts. We very rarely respond in this way, but seriously lads take your politically incorrect bulls–t elsewhere and untag. And politely go f–k yourselves. And have some respect. You're grown ups that live in a metropolitan city not f–king patriots rioting in Bendingo. Pull your collective heads in idiots."
Kerr added: "@burgerbunday look forward to you guys returning so we can serve you up a bag of fried dicks with some racist mayonnaise and some lesbian hating kosher salt."

Thankfully, the Instagram post was picked up by a site called The Brown Cardigan, which launched the public shaming session.
Mashable reports that Kerr has no regrets about his response:
""It was an impassioned response by me, hence it had no real forethought and that's why it's pretty colourful in its language. It struck a nerve with me and I just fought fire with fire. I wasn't there, but I knew I'd be defending someone that we knew personally and I couldn't let these guys talk about our loyal customers like that. Everybody slips up and says stupid stuff, but it's 2015 and that stuff just shouldn't be in your vocabulary if you want to live in an advanced, multicultural city like Melbourne."