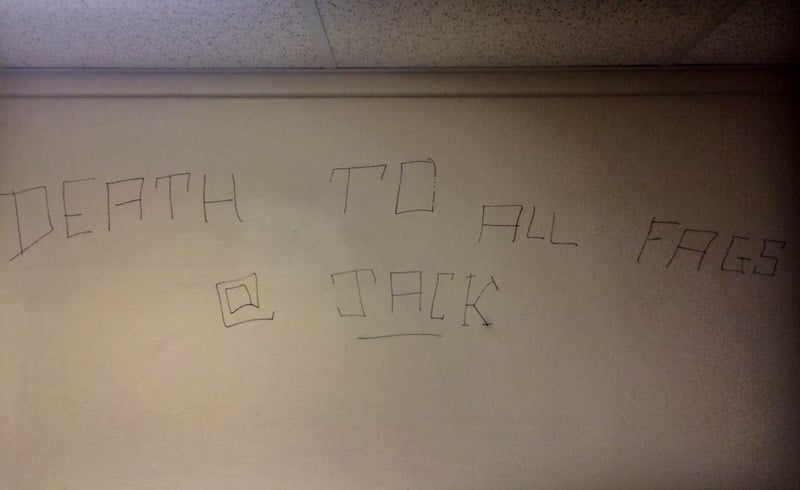 A homophobic death threat targeting gay Duke freshman Jack Donahue was found written in black marker in a corridor of  East Residence Hall on the Duke campus early Thursday morning, according to The Duke Chronicle: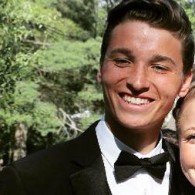 "I am angry, frustrated and disheartened by this attack. I am a proudly out and visible homosexual on campus and hatred like this is exactly what keeps innocent victims of circumstance in the closet and queer people living in a constant state of fear, which is often incorrectly perceived as cowardice," Donahue wrote in an email. "This needs to be taken as an assault on not only me but my people and used as an offensive against blissful ignorance on our campus and hateful contempt that runs rampant in our world. "
The Duke University Police Department is investigating the incident and pulling identity information from the card readers that students use to gain entrance to the halls, in an effort to figure out who was behind the hateful graffiti.
A response to the incident is planned for 1 p.m. today on the steps of the Duke Chapel, and Donahue will be speaking.
Duke students have come out in support of Donahue since the incident, the Chronicle adds:
Michael Schoenfeld, vice president for government relations and public affairs, said in a statement released by the University that once again student response shows the character of the University community more than the actions of the vandal.
"The swift and passionate response by Duke students to this cowardly act, like others before it, demonstrates the integrity and principles of the Duke community far more than any anonymous graffiti," Schoenfeld said. "Duke does not and will never condone intolerance, regardless of where and when it arises.
UPDATE: Donahue speaks at Duke Chapel:
Freshman Jack Donahue now addressing the crowd about the death threat and homophobic slur directed at him pic.twitter.com/zXmHeFp7QM

— The Chronicle (@DukeChronicle) November 6, 2015