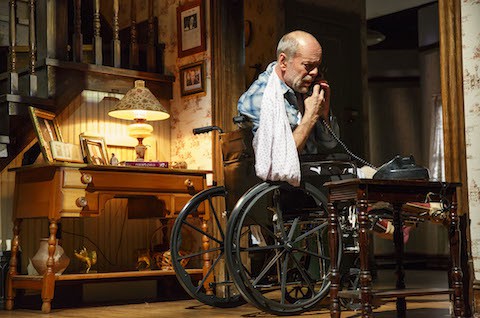 Misery, which opened last night at the Broadhurst Theatre, is something of a misnomer for the Broadway incarnation of Stephen King's 1987 thriller.
To get the obvious pun out of the way, it is not altogether a miserable experience — thanks to the superb Laurie Metcalf, who delivers a crackling, delightfully deranged performance as a maniacal fan obsessed with a best-selling author. But the extremity of the title can hardly be applied to the play's other, more recognizable marquee name, Bruce Willis. His knack for remaining affable in the most dire straits, a quality that's been his signature onscreen, does him few favors in the role of an increasingly desperate hostage.
Fans of the book or the 1990 Kathy Bates film (adapted for the screen by William Goldman, who also penned this play) may recall the basic premise. Author Paul Sheldon gets in a car accident in the Colorado mountains and wakes up in the home of his self-professed "No. 1 fan," Annie Wilkes. Though the circumstances of the crash remain unclear, Annie does reveal that she was following him. After he went off the road, she pried open the car door, brought him home, put makeshift braces on his broken legs, and propped him into bed.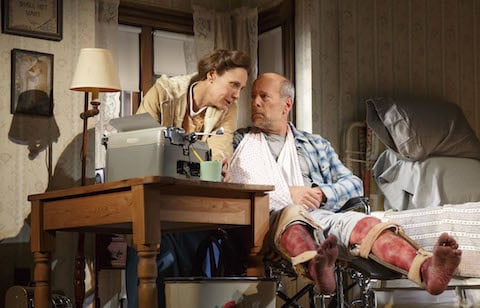 Soon it becomes clear that she is not only his caregiver but his captor, and that he's pretty much screwed. Things really take a turn when Annie discovers that Paul has killed off the serial heroine (aptly named Misery) in the latest volume of his popular franchise.
Metcalf drives the production forward with an earnestness that borders on camp, as Annie grows from subtly menacing to totally unhinged. While she has the advantage of playing the psychopath (and of having use of her legs), Willis is an unevenly matched sparring partner. He presents, for the most part, a rather genial victim. As the gravity of his situation becomes clear, Paul seems more resigned than anything else, even as he hashes different plots to escape. If Metcalf is chewing the scenery (in the most devine way possible), Willis might as well be a set piece, albeit a very expensive one with first-position billing.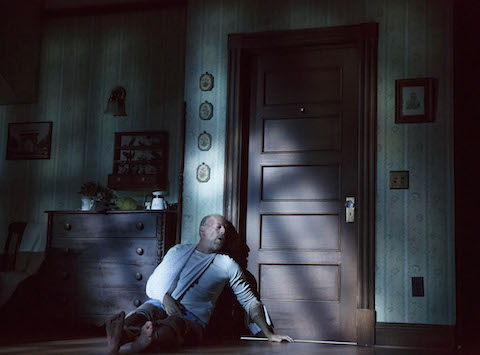 Making his Broadway debut, director Will Frears opts for a snow-globe-sized production, complete with storybook snow caked on the eaves of Annie's remote cottage. While the cramped scale is fitting for a story about a man held captive by a myopic, obsessive mind, the staging sometimes gets swallowed up by the dark void of a massive theatre — particularly as its hobbled star performance doesn't do much to light it up.
Recent theatre features…
Taylor Mac Talks Gender, Acting, and Groundbreaking New Play, 'Hir' —INTERVIEW
Gloria Estefan Musical 'On Your Feet!' Congas Onto Broadway: REVIEW
The Royal Family Comes to Broadway in 'King Charles III:' REVIEW
Keira Knightley Stars in Stunning Production of 'Thérèse Raquin' on Broadway: REVIEW
Matthew Broderick and Annaleigh Ashford Bring Canine Comedy 'Sylvia' to Broadway: REVIEW
Follow Naveen Kumar on Twitter: @Mr_NaveenKumar (photos: joan marcus)