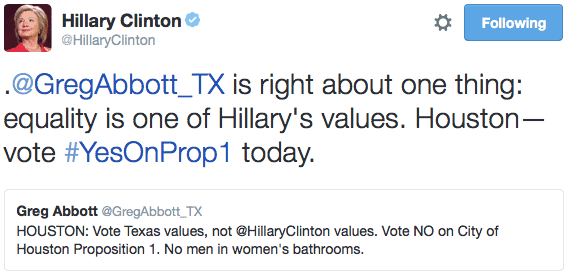 Democratic presidential frontrunner Hillary Clinton had the perfect response to GOP Texas Gov. Greg Abbott's disgusting tweet Monday opposing Houston's Equal Rights Ordinance.
As we reported, Abbott wrote that people should "Vote Texas values, not @HillaryClinton values," and oppose HERO. He added,  "No men in women's bathrooms."
Clinton, who came out in support of HERO last week, responded Tuesday: ".@GregAbbott_TX is right about one thing: equality is one of Hillary's values. Houston—vote #YesOnProp1 today."
Thus far, Abbott has not responded to Clinton's tweet.
Meanwhile, BuzzFeed News took a lengthy look at why the LGBT movement is struggling to uphold a simple equal rights ordinance in the nation's fourth-largest city, speaking with voters on the streets of Houston who were under the impression that HERO is about bathrooms, not discrimination:
One block down Travis Street, 44-year old Donna L., who refused to give her full last name, said the same: "I heard people saying pedophiles would be going into restrooms. That is the main thing everybody is talking about. I hadn't heard anything else."
The vote comes at an especially critical moment for the LGBT movement. After winning marriage at the Supreme Court in June, leaders of top organizations vowed to use the wind at their backs to pass laws prohibiting discrimination in cities, states, and eventually the whole country. A bill in Congress, the Equality Act, was introduced in July but has stagnated without a single Republican co-sponsor.
Yet the fact is, rather than expand the number of jurisdictions with such laws, LGBT activists are simply trying to defend this law already on the books in Houston. So this election, in the country's fourth-largest metropolis, will test the LGBT movement's ability to meet their recalibrated mission and gain momentum. Losing in Houston will suggest the LGBT movement has a steeper hill to climb now that it did with marriage equality.
In case you're wondering, polls close at 7 p.m. Central time in Houston, so we'll have early voting results shortly thereafter. Roughly half of voters cast ballots early, so if the results are lopsided, it will provide a pretty good indication of which way things are going. Election Day returns will trickle in over the ensuing few hours.