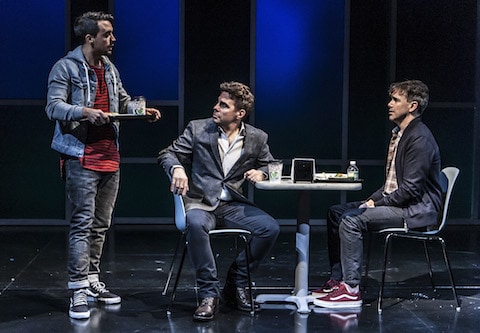 "Why am I so angry? What's my problem? What do I do?" The questions come pouring out of the title character (well, one of them, anyway) in Steve, another in this season's batch of plays delving into a particular subset of gay experiences, namely those of well-heeled Manhattanites firmly in their nesting phase.
Mark Gerrard's campy and thoughtful new comedy, which opened Off-Broadway last night in a New Group production, tackles some of these questions with easy insight and rapid wit, packing enough musical theatre references to give a show queen whiplash.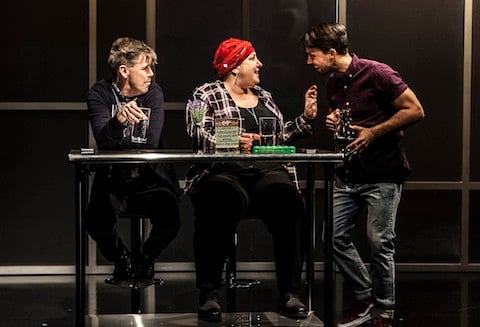 Steven (the one with the questions, played by a stellar Matt McGrath) arrives at his birthday dinner, where his partner Stephen (Malcolm Gets) and their friend Carrie (Ashlie Atkinson) are already assembled. From Carrie's headscarf, we know that she's battling cancer, from Stephen's attire that he works in corporate, and from Steven's demeanor upon entering that something's up. After Steven's oldest friend Matt (Mario Cantone) and Matt's partner Brian (Jerry Dixon) arrive, we find out that corporate Stephen's been sexting Brian on the side — birthday Steven just found out, but is keeping it to himself for now. Oh, and they meet a cute waiter (Francisco Pryor Garat) who will crop up again (and again).
From a potentially straying lover to a dying friend, the play's plot points are not quite highly original, nor do they yield many surprises — then again, neither does life much of the time. People in relationships fuck up; people get very sick, and their friends take care of them. Would similar story lines make for a compelling play if these characters were straight? Maybe not. But we're still playing catch-up in marveling at everyday experiences from the particular perspective of gay people (men, in this case) — from emoji-filled sexting and locker room hookups to the challenges and pleasures of raising kids and growing older.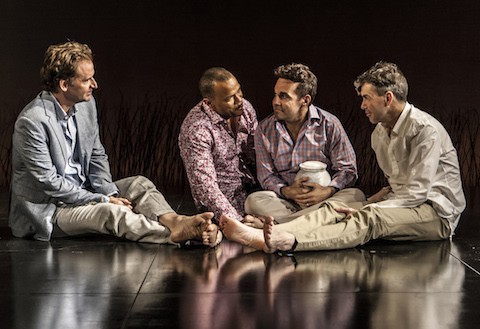 Gerrard excels at capturing intimacy among friends: the jokes, slights, shared histories, and secret languages born out of the families we choose. The play maintains a sort of bygone New York air, characterized by piano numbers plucked from the back room at Marie's Crisis; it's also not without its clichés (see: above). But under the direction of Cynthia Nixon (who also helmed Rasheeda Speaking for the New Group last season), the banter proceeds at a steady clip and the tenderness and frustrations of kinship are deeply felt.
McGrath anchors the story as the endearingly neurotic and acerbic Steven, and Gets is excellent as a man pulled in every direction (sometimes all at once). Steve (the play and its namesake characters) doesn't have all the answers, because there are no easy ones. But it's as refreshing as it is scary to finally hear them asked.
Recent theatre features…
Bruce Willis and Laurie Metcalf Open in 'Misery' on Broadway: REVIEW
Taylor Mac Talks Gender, Acting, and Groundbreaking New Play, 'Hir' —INTERVIEW
Gloria Estefan Musical 'On Your Feet!' Congas Onto Broadway: REVIEW
The Royal Family Comes to Broadway in 'King Charles III:' REVIEW
Keira Knightley Stars in Stunning Production of 'Thérèse Raquin' on Broadway: REVIEW
Matthew Broderick and Annaleigh Ashford Bring Canine Comedy 'Sylvia' to Broadway: REVIEW
Follow Naveen Kumar on Twitter: @Mr_NaveenKumar (photos: monique carboni)