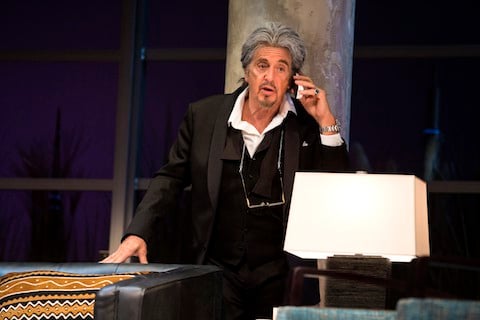 Have you ever wondered about the oft unexplored world of #RichWhiteMaleProblems? Alternately, have you ever resented a friend for never checking his phone once in two hours, because undivided attention makes you uncomfortable and you'd much rather be ignored for the entirety of a date it took you months to schedule?
Well, your prayers have been answered — by Al Pacino and David Mamet, no less, who've teamed up on China Doll, a grueling and nearly impenetrable slog of a play that opened at the Schoenfeld Theatre on December 4. (Already a box-office hit, the Pam MacKinnon-helmed production was originally set to open on November 19, until producers pushed it back by two weeks amid rumors that Pacino was forgetting lines and folks were leaving at intermission.)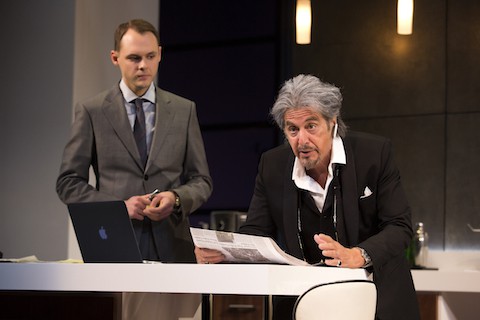 Let's start with what we do know. Mickey Ross (Mr. Pacino) is rich. Like, really, stinking rich. This we can tell by the posh yet flavorless interior in which we find him (designed by Derek McLane), and because he's facing a kerfuffle with his purchase of a private plane (we've all been there, Mick). His assistant (Christopher Dunham) is on hand to roll calls — and it's a good thing, too, because Mickey has a ton of them to make.
Beyond this, the exposition proceeds at a slow trickle, as does the plot (such as it is). Excepting the brief moments when Mickey barks at or cajoles his assistant, Mamet's play is entirely made up of one-sided conversations conducted over an ergonomic earpiece. (Eventually, you'll just have to override your instinct that surely, he has to get off the phone at some point, because he doesn't.)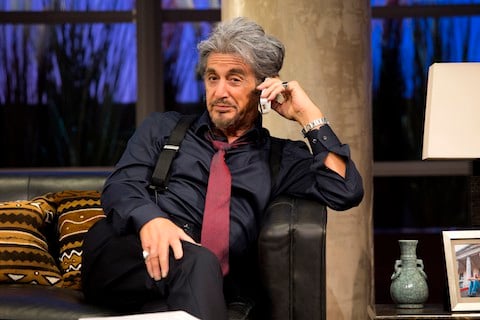 At intermission, we exchange theories with our seatmates: Do any of us know what's happening so far? I came away from our conversations with a hard no. But, okay: Mickey doesn't want to pay U.S. taxes on his shiny new custom jet. There's a woman out there waiting for him who he adores with a misogynist furor (this is Mamet, after all). He's got money in politics. He thinks he can be creative with the law, and of course, he's wrong. Overall message: Men like this? They're in trouble.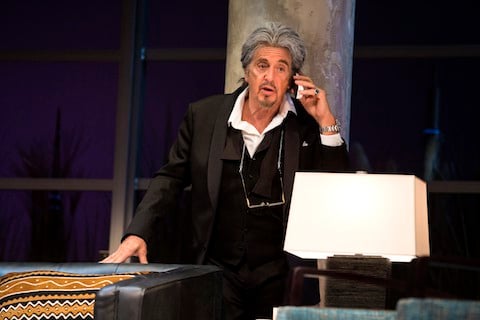 In all fairness to Mr. Pacino, underneath his devil-may-care wig is the mind of a legendary actor, and at 75, he carries the entire show on his back, speaking nearly 99% of its dialogue. His character is an entitled, crumbling crony, and Pacino brings his considerable powers to bear in making that clear. Whether anything else about the play becomes clear depends on the sheer strength of your will.
May the odds be ever in your favor.
Recent theatre features…
Andrew Lloyd Webber's 'School of Rock' Musical Blares Onto Broadway: REVIEW
George Takei Talks Racism, Coming Out, and Fulfilling His Life's Mission on Broadway: INTERVIEW
Bruce Willis and Laurie Metcalf Open in 'Misery' on Broadway: REVIEW
Taylor Mac Talks Gender, Acting, and Groundbreaking New Play, 'Hir' —INTERVIEW
Gloria Estefan Musical 'On Your Feet!' Congas Onto Broadway: REVIEW
The Royal Family Comes to Broadway in 'King Charles III:' REVIEW
Follow Naveen Kumar on Twitter: @Mr_NaveenKumar (photos: jeremy daniel)