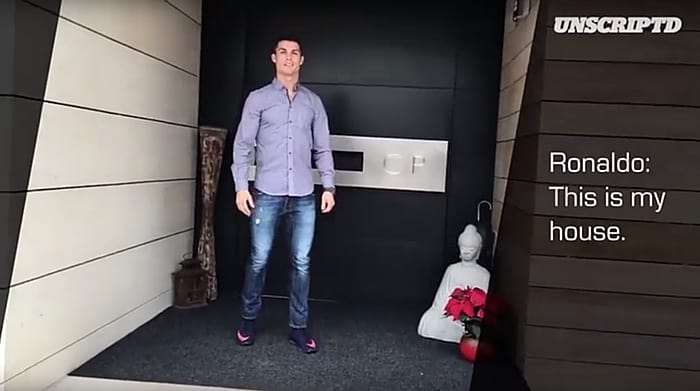 Have you been wondering about the glam pad where Cristiano Ronaldo spends his time when he's not jetting to Morocco to visit friends or scoring goals? Wait no longer.
In a new video for Unscriptd, Ronaldo takes us inside his crib in Madrid to reveal the oasis of serenity he has created for himself. From the ceramic buddha at the front door (engraved with his initials), to his always quiet dog, to his leopard-patterned bedspread, to his private soccer field and pool, to his pristine dining room where he is served healthy meals, to his aquarium with something in it that he won't show us, everything is calculated to allow him the proper rest to transform into the sleek, glistening, athletic underwear model football superstar that he is.
It's all very Cristiano Ronaldo. And it's almost 'The Christmas', so there's a bit of holiday cheer as well.
Enjoy:
https://www.youtube.com/watch?v=ygdLQT6gPK8