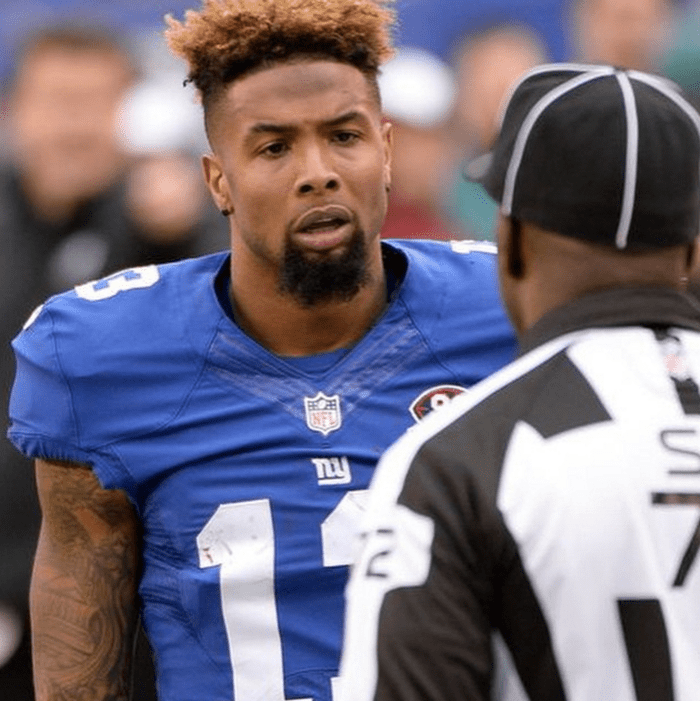 New York Giants star receiver Odell Beckham Jr. has reportedly been targeted with gay slurs throughout the season according to an NFL insider close to Beckham.
Beckham was suspended by the NFL for one game because of a helmet to helmet collision with Carolina Panthers' cornerback Jason Norman during a game on Sunday. Beckham says he was threatened with a bat by Norman before the game and taunted with gay slurs. That taunting led tension to escalate between Beckham and Norman throughout Sunday's game, culminating in the tackle that violated league rules.
Speaking about that incident, Michael Irvin, an NFL Hall of Fame receiver and analyst at the NFL network who is also a mentor to Beckham, told the NY Daily News that "everybody" has been going after Beckham with gay slurs all season long. Said Irvin,
"He deals with it a lot. For some reason, everybody goes after him with gay slurs. He's a different kind of dude. He has the hairdo out, he's not the big muscular kind of dude. The ladies all love him. He's a star. I wonder why people are going in that direction. It blows my mind. I told him he can't let stuff that people say get to you."
Asked how he would handle the situation, Irvin responded, "I would like to think I could handle it correctly. But I can't promise you that. Really, nobody can. That is why they give you leniency for crimes of passion."
The interview obtained by the Daily News made note of Beckham's showmanship during his short two year career in the league. "He puts on a spectacular pregame show with his one-handed catches", the Daily News writes, adding, "he also celebrates touchdowns like he's performing in a Broadway show."
https://instagram.com/p/-c3nlkOMlq/?taken-by=iam_objxiii
Irvin believes that Beckham has become a target for other players because of the attention he's garnered. Said Irving, "I don't think I've ever really seen the animosity towards a receiver ever in the league right now what's going towards this young kid." He added, "I think a lot of players are so upset that he's getting so much press, so much exposure, without winning." Beckham's impressive skills have not always equated to Giants victories.
While Panthers head coach Ron Rivera has denied any players on his team were taunting Beckham with gay slurs or threatening him with a bat, an object supposedly used as a "motivating prop", he has since retired the bat from service. Said Rivera of his decision to ban the bat, 
"Because I'll hear it if I don't [end it]. That's the truth of the matter. I'm going to end up hearing it, so to avoid the set of circumstances let's just eliminate it. That's what we're going to do. [The NFL], it's the 'No Fun League' for a reason."
Beckham has been consistent, however, that the bat was used to threaten him and that one of the Panthers "pointed the bat at him", according to Irvin:
"He was at midfield with that bat, like they were going to swing the bat on you," Irvin said. "You can't lose your cool. He was just telling me they did have the bat and they were pointing the bat at him and saying, 'Oh yeah, we're about to swing for it.'"
Beckham is appealing the league's one-game suspension imposed on him because of his helmet to helmet collision with Norman. His appeal is scheduled to be heard today.
Watch video showing someone from the Carolina Panthers taunting Beckham before Sunday's game with a baseball bat in the Giants' warm-up area, below.
https://twitter.com/NYGDaily/status/679126741252706304?ref_src=twsrc%5Etfw
(Top photo via Instagram)