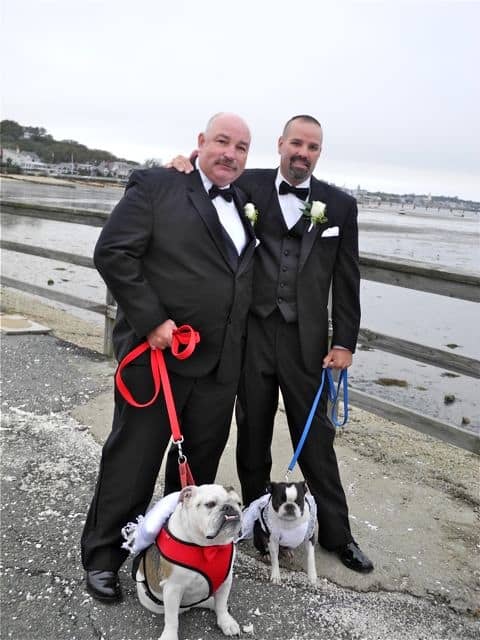 Matthew Barrett, a food services manager, who accepted a job with Fontbonne Academy, a Catholic girls' high school in Massachusetts, had his job rescinded after the school discovered he was gay and married. Barrett took them to court and in a first-of-its-kind ruling, a Massachusetts state judge agreed.
Gay & Lesbian Advocates and Defenders (GLAD) reports:
The "issue" was that in filling out his emergency contact form, Matt had written Ed's name, and where it said "relationship", Matt wrote "husband." The head of school told Matt that they couldn't hire him because he was married to a man, which is against their religious beliefs – but she admired him for his honesty.
Matt said, "It never occurred to me to lie about Ed, and I never would lie about Ed. But if I had written 'friend' or 'roommate,' I would have the job."
In a first-of-its-kind decision, a Massachusetts Superior Court judge has ruled that Fontbonne Academy, a Catholic girls' high school, discriminated against Matthew Barrett on the basis of sexual orientation and sex when it rescinded its offer of the job of food services manager to him because he is married to another man. The court ruled that Fontbonne had clearly and directly violated the Massachusetts nondiscrimination law; was not exempt from the law; and had no constitutional defenses against its discriminatory conduct.
The case, Barrett v. Fontbonne Academy, brought by Gay & Lesbian Advocates & Defenders (GLAD), seeks to enforce the nondiscrimination laws that are vitally important to our civil society and to push back against attempts by religiously-affiliated institutions to expand their ability to free themselves from the obligations of the nondiscrimination laws.
"Religiously-affiliated organizations do not get a free pass to discriminate against gay and lesbian people," said Bennett Klein, GLAD Senior Attorney. "When Fontbonne fired Matt from a job that has nothing to do with religion, and simply because he is married, they came down on the wrong side of the law."
"I'm ecstatic," said Barrett. "What happened to me was wrong, and I truly hope it doesn't happen to anyone else."
In rejecting Fontbonne's constitutional claims asserting rights of free exercise of religion and expressive association, Associate Justice Douglas H. Wilkins wrote, "The state has a compelling interest in prohibiting discrimination against historically disadvantaged people," citing cases from the U.S. Supreme Court addressing race and sex discrimination. He continued, "That interest is rarely stronger than in the employment context…"
Read the ruling HERE.
Several legal experts contacted Thursday by the Globe said they believed the ruling was the first in a legal dispute involving a religious organization and an employee in a same-sex marriage.
"It is the first reported case with regards to a religious institution," said Brian D. Spitz, an employment lawyer in Ohio whose firm represents clients from the LGBTQ community.
"Sexual orientation is a protected class deserving of the same level of protection as other protected classes," Spitz said. "If the Fontbonne Academy argued that it was against their religious tenets to hire a woman or a black person, their arguments would be ridiculed as absurd at first look."
The decision was blasted by the Catholic Action League of Massachusetts, which called it "a frontal assault on religious freedom" and "an appalling subordination of the First Amendment to the Massachusetts gay rights law." The organization is an independent group directed by a lay person.
Barrett is entitled to lost wages and damages, according to the judge. No hearing has been set to determine how much.
(photo via GLAD)