Last night's episode of American Horror Story: Hotel has got my head spinning. After last week's big reveal, you would think we'd learn what's next for the Ten Commandments Killer, but he's nowhere to be seen in last night's installment, "She Wants Revenge."
Instead, we got a whirlwind hour that managed to pack in so many dizzying developments with such little regard, it's a wonder there was still time to cram in an extended flashback scene that added very little to the overall plot.
Even by AHS standards, Hotel is feeling wildly uneven and poorly plotted. There are just too many characters that are too thinly conceived. Their motivations are either barely explained or given such a thorough justification via indulgent flashback scenes it's like watching several different television shows at once. There are so many themes jammed into the story — the relationship between parents and children; addiction; love; sex; killing for the sake of justice — the show's subtext reads with all the subtlety of a word cloud.
As much as I rag on Ryan Murphy and his cohorts, clearly they're talented, and I watch nearly everything they do. Especially with such a gifted cast (even Gaga somehow earned a Golden Globe nom today), they could do so much better with a little more focus.
Enough griping for now. Let's do our best to recount all the twists, turns and betrayals from last night's episodes in our SPOILER-y recap below.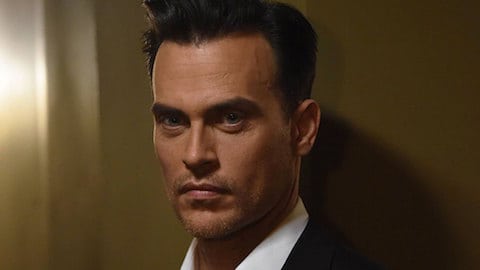 Remember that pack of rabid child vampires? They've been terrorizing Los Angeles, killing hobos and eating pizza delivery guys. Alex (Chloe Sevigny) hears about some of their antics on the local news and hunts the kids down. She tells them it won't be long until people find them, and then what? How will they explain all this? She recommends the little scamps come back with her to the Hotel Cortez, but the kids refuse. They scurry off, but decide not to kill Alex, since she's their vamp mom or whatever. That's very kind of them. A few of the kids are even sort of feeling bad about killing people. With dissension growing within their ranks, methinks some of the mini-vamps will be back for Alex's aid at the Cortez soon.
Given all the lunacy running wild over at the Cortez, a band of murderous vampire children wouldn't even be in the top 10 strangest things. It all centers around Gaga and the men (and women) who love her.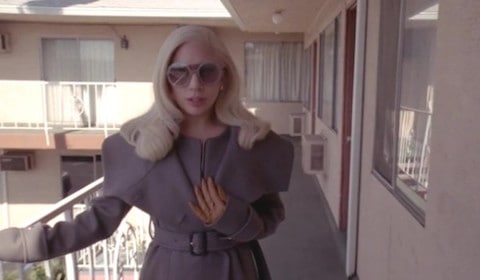 Let's start with good ol' Rudy Valentino (Finn Wittrock). Gaga hired a private investigator to track down the silent film star and Natacha (Alexandra Daddario). Gaga busies Natacha by handing her a black card and pointing her in the direction of Beverly Hills shopping. That gives Gaga more opportunity to have Rudolph all to herself. It's something she clearly wants more of, as she very subtly hints to Rudolph that he may have to brace himself for life without Natacha one of these days. A very normal, not at all troubling thing to hear, I'm sure. I guess Valentino hasn't yet learned the modern phrase "red flag."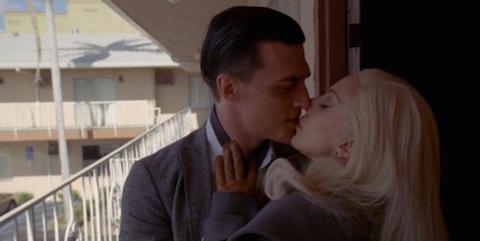 The last thing Gaga needs right now is to get tangled up in the complex dynamics of a throuple. She's got enough modern-day lovers to deal with. Take, for instance, Donovan (Matt Bomer). At some point, the Countess made up with her former flame, and we see the two engaged in a passionate roll in the hay. (Gaga's wearing sparkly pasties and stiletto heels in this scene, and it just makes me wonder how much budget they're saving by having her just bring her own wardrobe from home.) Anyway, in a post-coitus convo, they agree to commit to each other fully and eliminate all the detritus in their life. They even agree to make a kill list.
Cut to Donovan showing up on the doorstep of Ramona Royale (Angela Bassett). He's got with him a little gift in the form of a surviving porn star from one of Iris (Kathy Bates)'s earlier slaughters at their shoot. In addition to providing a little snack to bring with him, Iris also gave Donovan some important information. Gaga's been asking questions about how her baby Bartholomew got loose, so Iris blamed Ramona. It's just a matter of time before The Countess deduces they're all in cahoots.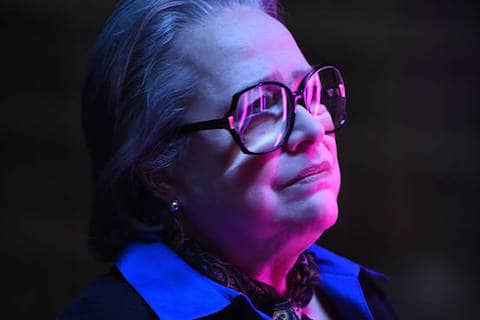 Armed with this info, Donovan has gone to Ramona to convince her to strike now. He's back with Gaga, but he's only doing it to get close enough to double-cross her. Having this time with The Countess after being apart has shown him how hard it is to quit her, how much her love controls him. As if that's not hammering the audience on the head enough about this season's addiction theme, he then tells her, in no uncertain terms that it's like an addiction. Ramona, for some reason, trusts him. She'll go back with him to the Cortez, but not before she sits him down to explain why it's taken her more than two decades to exact her revenge.
Pull up a seat, my friends, because it's time for a completely unnecessary flashback.
After The Countess killed Ramona's lover, Ms. Royale went home to her elderly parents. Mom died soon after, but dad slowly began to succumb to dementia. One night, some burglars roughed him up real good and nearly killed him. Ramona gave her father the virus to keep him alive, but it wouldn't cure his dementia. She saved his life, but doomed him to being trapped like this forever. She took care of him for twenty years before realizing this was trapping her, too. One night, she drowned him and decided to rejoin the modern world. So, if you just could not sleep at night because you didn't know exactly how Ramona spent her time between 1992 and today, now you know.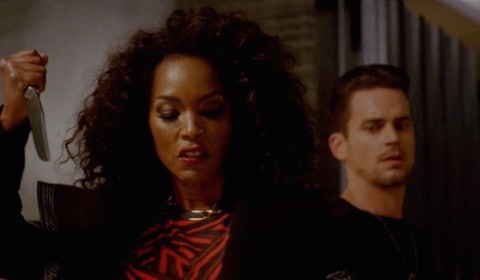 Ramona and Donovan return to the hotel and creep in on a sleeping Gaga, except! It's all a ruse! Donovan attacks Ramona, and he and Gaga lock her up. Double-double-cross!
It's a good thing Gaga had the area that kept Rudy and Natacha prisoner redone with a new security vault door and cameras. It gives her somewhere to stash Ramona and the other other-man in her life, Will Drake (Cheyenne Jackson).
When she's not off tracking down undead silent film stars, foiling revenge plots, commissioning complex construction projects or banging Matt Bomer, The Countess has a wedding to plan! (Who says women can't juggle it all?) The intimate affair is preceded by a very awkward conversation between Will and his young son about the meaning of bisexuality that is mercifully interrupted by Miss Evers (Mare Winningham). The maid tries to convince Drake that marrying Gaga will kill him, but he won't hear any of it. (Don't be fooled into thinking Evers is doing this out of kindness. She holds a grudge against The Countess for stealing her one true love, Mr. March.)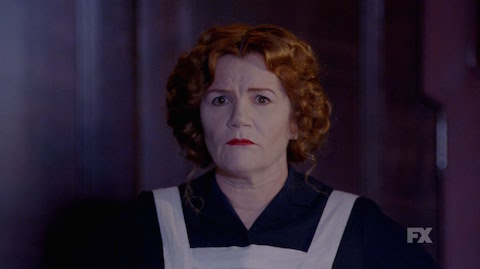 He probably should have heeded that warning, because once the wedding wraps up, Drake bellies up to the bar alongside none other than March (Evan Peters) himself. Who even knows what his motivations are anymore among this mess, but he cheerily leads Drake up to see little Bartholomew. Of course, Will reacts with disgust while Gaga is right behind him. Insulting her baby is the ultimate offense, so she bonks him on the head and tosses him in the newly-constructed tomb.
He comes to in Haterz Hall and immediately frees Ramona. Big mistake. He realizes he's trapped and worried they're going to starve in there. Well, she won't. She pounces on him and feeds as Miss Evers watches on with a big ol' "I told you so" look on her face.
Good grief. There are a lot of moving pieces here. Obviously Natacha is on Gaga's kill list. Could Iris and Liz Taylor (Denis O'Hare) be next? What's Donovan's plan? Is he really back under Gaga's spell, or is catching her visiting Valentino going to snap him back to reality? How will she react when she learns Alex has turned all those school kids? How can Gaga get revenge on March if the hotel's ghosts can pop in and out of the tomb? Where is John Lowe (Wes Bentley)?
That's an awful lot of loose ends to tie up in the remaining few episodes (especially if we're going to keep throwing together these useless flashbacks). How do you think Hotel will end?
Share your theories in the comments.