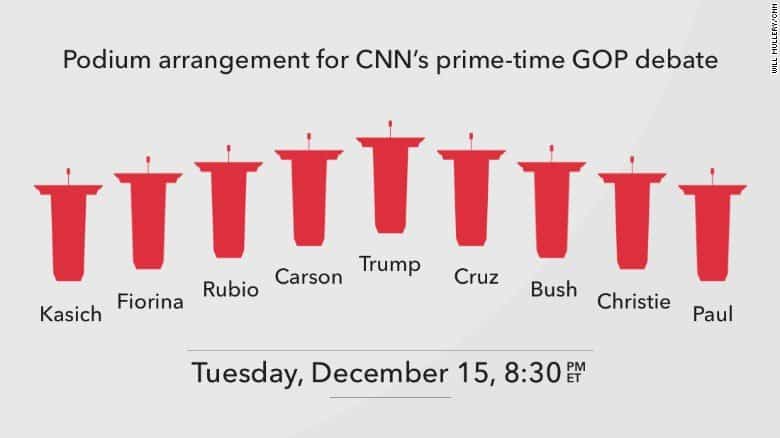 TONIGHT: The final Republican debate of 2015 on CNN: Nine candidates take the stage at 8:30 pm ET. The podium arrangement is shown above. Four additional candidates who didn't make the main debate will face off in an undercard debate at 6 pm ET: Mike Huckabee, Lindsey Graham, George Pataki, and Rick Santorum.
2016 GOP POLLING: Donald Trump hits 41% in new national poll: "Trump is at 41% in a Monmouth University poll out Monday, holding a wide advantage over his GOP challengers. His support was up from 28% in October. In second was the rising Texas Sen. Ted Cruz, at 14%; followed by Republican Sen. Marco Rubio, at 10%. Ben Carson was at 9%, down 9 points from October, and all other candidates were in the low single digits.  Cruz and Rubio both were up 4 points since October's poll, a shift within the poll's margin of sampling error."
ADVERTISING: Check out this stunning spec ad for Johnnie Walker made by two German students, Daniel Titz and Dorian Lebherz,  that's going viral:
DEATHS: Downton Abbey star Michele Dockery's fiancé died of cancer at 34. "Dockery, who plays Lady Mary Crawley on the British period drama, cut short a "Downton Abbey" U.S. publicity tour to travel to Dineen's bedside. She will spend her 34th birthday Tuesday preparing for his funeral."
OKLAHOMA: A man revenge-rammed a pick-up truck through a hotel lobby: "Remarkably, no-one was seriously injured in the incident, which caused more than $100,000 worth of damage. Parsley was reportedly furious that his credit card was declined twice at the hotel, causing workers to ask him to pay in cash. Kingson Christian, the hotel's manager, told investigators that 'Parsley stated it wasn't his first bad experience with a hotel manager who was also Indian.' The incident report said Parsley then told the staff that he was going to 'run his truck over them and the property.' Parsley told police he drove into the hotel because "they thought he was bluffing, and he proved he wasn't," according to the incident report obtained by the Enid News.
https://www.youtube.com/watch?v=FMC9LuUZN-A
MEDICINE: Maternal exposure to anti-depressants linked to autism: "A new study provides some of the strongest evidence yet that using an antidepressant like Prozac, Paxil or Zoloft during the final two trimesters of pregnancy may be linked to a higher risk of autism spectrum disorder for the child."
MILITARY: Sergeant Bowe Bergdahl may face life in prison for desertion: "Army Sgt. Bowe Bergdahl will face a general court-martial in connection with his 2009 disappearance from his base in Afghanistan, service officials said Monday, raising the possibility that the soldier could face life in prison after being held captive by the Taliban for five years. The Army has chosen a type of trial that could yield a more severe sentence than what an officer recommended earlier this year."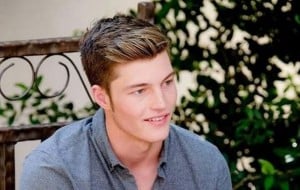 SEXIEST MAN IN SOUTH AFRICA? Up-and coming Afrikaans singer Brendan Peyper is the winner of this year's Mambaonline Sexiest Man Survey: "He beat out 12 other gay-friendly home-grown male celebrity finalists' including actors' singers' dancers and TV celebs' who have been competing for the fun title since the start of October."
TECH: Samsung wants U.S. Supreme Court to hear patent lawsuit with Apple: "South Korea-based Samsung on Monday appealed a $399 million judgment for illegally copying patented aspects of the look of Apple's iPhone, the latest round in a long-running fight between the two tech-industry giants."
NOSTALGIA: Let's look back at 100 years of toys:
TOO PIERCED FOR TUESDAY: Colton Haynes shows off his body modification: