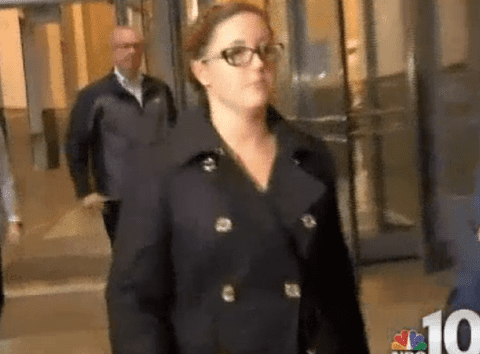 The trial of accused gay-basher Kathryn Knott is now in the hands of the jury as testimony has wrapped and the judge in the case has given instructions on how the jury is to proceed.
Four days of testimony drew to a dramatic close on Tuesday with Knott testifying that she was not involved in the September 11, 2014 attack on a gay couple in City Center, Philadelphia, and in fact tried to intervene to stop the altercation. Knott also said that her anti-gay tweets, which were entered into evidence, were not derogatory towards LGBT people.
A Philadelphia jury will decide the fate of a young suburban Philadelphia woman accused of in an attack on a gay couple in Center City.
Kathryn Knott, the daughter of a suburban police chief, is charged with taking part in an attack that left one man hospitalized with a broken jaw. She testified for about an hour Tuesday and denied shouting slurs or striking either victim.
A judge gave instructions to the jury Wednesday morning before the jury went into deliberations. The jury heard two sides about what happened near 16th and Chancellor streets in September 2014.
Knott, 25, said she moved toward the fray to try to intervene but didn't get involved.
Though Pennsylvania does not criminalize anti-LGBT hate crimes, the prosecutor in Knott's trial made sure to call Knott's assault a hate motivated attack:
"This was a hate crime," Assistant District Attorney Michael Barry said in his closing remarks Tuesday, after the jury saw tweets in which Knott used anti-gay language to describe a bad hair day or lame song. "She can't help herself. It's bubbling right below the surface. … It shows she shares the state of mind with her co-conspirators.
Watch a video from NBC news below: