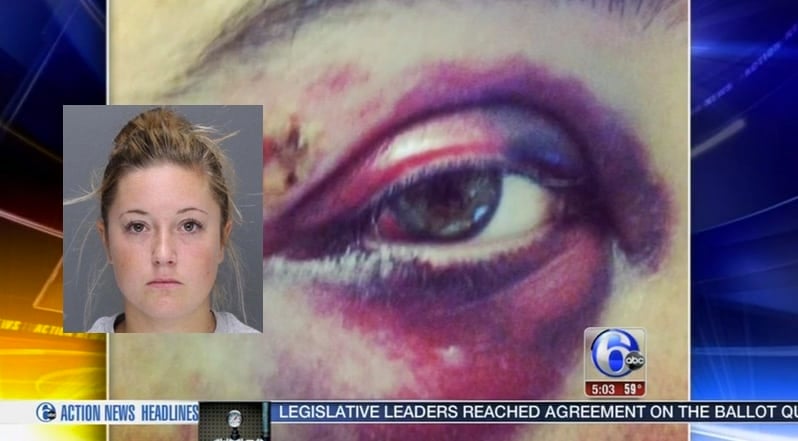 A juror ran from the courtroom after seeing graphic photos of the injured gay couple who were beaten by a group of attackers on September 11, 2014 in Center City, Philadelphia. Among the group was alleged gay basher Kathryn Knott (above), who appeared in court on day two of her trial yesterday. The other accused attackers chose to take plea deals instead.
Day two of testimony in the trial for Kathryn Knott was gruesome. A bloody shirt was shown on the stand. One juror actually rushed out of the courtroom after seeing photos that showed the victims' injuries, but later returned to hear more about the investigation into the beating of a gay couple in Center City.
The jury also heard from one of the victims:
Both victims suffered black eyes. 28-year-old Andrew Haught told jurors his face was broken in several places, and identified Knott as one of the attackers. He testified, "The girls especially were really intense, which I was really surprised about."
He went on to say his jaw had to be wired shut, saying, "For eight weeks I ate only broth. I lost about 15 pounds. I was emaciated."
Witness Michelle Moore said she saw the fight and stayed until police arrived. Moore says, "One was on the ground with blood. I thought he was dead. The other was stumbling around like he was looking for something."
Because Moore described the dress on the woman seen beating the victims previously as "white" and during testimony as "black and whitish," Knott's defense attorneys are trying to use the discrepancy to argue that Knott may not have been the woman involved.
Watch ABC6's report: