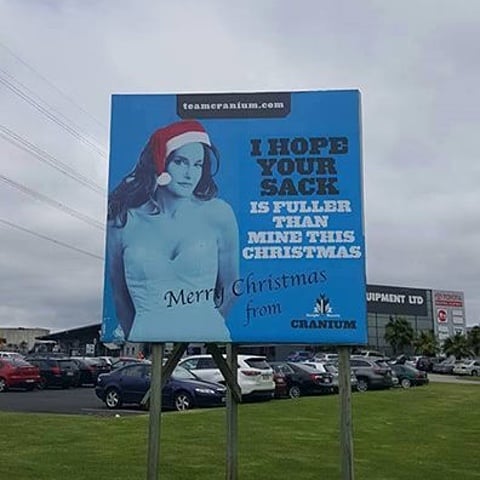 An advertising company in New Zealand has apologized for a transphobic billboard featuring Caitlyn Jenner.
The Cranium Signage ad featured Jenner's Vanity Fair cover with the slogan "I hope your sack is fuller than mine this Christmas."
Speaking to Stuff.co.nz, the mother of a nine-year-old transgender boy called the sign "absolutely disgusting."
Rebecca Jones added:
"Transgender suicide rates are extremely high. If they had put a racist board up, would they have got away with it? They shouldn't be mocking a marginalized sector of society."
Despite apologizing, Cranium owner Phillip Garratt later replied to a Facebook user (post since deleted) "I think you may need to take a look at yourself and relax a bit and not take life so seriously. I was referring to a santa sack, your sick mind is the problem."
Following further complaints, Garratt wrote on Facebook "I as the owner have no feelings of discrimination to the Gay or transgender community and if one of my family was I would love them just the same.
https://www.facebook.com/permalink.php?story_fbid=1039213172787981&id=511974625511841
"Cait is more then welcome to stay at my house with my family anytime. I will have a wine or a beer with her quite happily and it would be an honor."
Cranium has since apologized and donated $1000 New Zealand dollars (around $680) to Rainbow Youth.