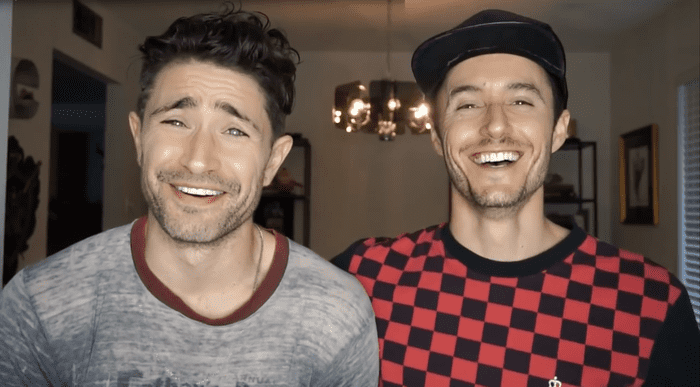 Actor Matt Dallas and husband Blue Hamilton have shared how they came out to friends and family in a new YouTube video posted this week.
Dallas shared that he first identified as bisexual when he was younger before coming out as gay. Said Dallas in the video,
"All through high school I said I was bisexual…I know the reason now looking back. The reason that I said that is because I was so much holding on to the idea of wanting to have a wife and a family and making kids. And I thought you had to have a wife in order to have kids and make that family unit."
Of course, Dallas, who has a son with husband Hamilton, ultimately came to realize that being gay doesn't mean you can't have a family.
Of when he knew he was gay, Dallas says, "I knew since I was little. I remember being like tiny and thinking it was some sort of weird phase."
Dallas also shared that his coming out process involved multiple comings out. One of the first people he told was his brother. While packing an overnight bag to go stay with his high school boyfriend, Dallas' brother asked him if he was gay. When Dallas said yes, his brother quipped back, "Me too", before adding, "I'm not. But I still love you anyway."
When Dallas wanted to come out to his dad, he tried to lay some ground work for a conversation but found his father already knew. Dallas said to him, "Hey dad are you going to be around later tonight? I want to come over and talk to you about something."' But the jig was up: "Matt, if you're going to tell me you're gay, I already know and it's cool. And I love you." Dallas' dad added, "I love you. Let's not make it a big deal."
Dallas said of all his comings out, "Every time I tried to come out to somebody, they already knew!'
Hamilton recalled how it was a friend who inspired him to come out to his grandmother after first coming out to his mom and dad. Said Hamilton's friend, "No relationship that you ever have is going to be meaningful unless you are 100% yourself." Hamilton finally came out to his grandmother who remained supportive and loving: "You're my grandson. I've always loved you," she said.
Watch these two adorable husbands share what it was like for them to come out, below.