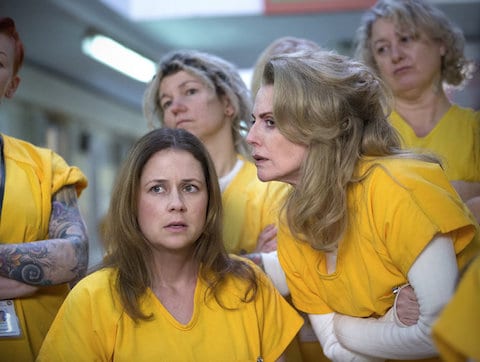 Check out our weekly guide to TV this week, and make sure you're catching the big premieres, crucial episodes and the stuff you won't admit you watch when no one's looking.
— It's the end of the world as we know it starting Thursday at 8 p.m. Eastern on NBC. The title of You, Me and The Apocalypse sort of says it all. The Office's Jenna Fischer is joined by Rob Lowe and Will & Grace alum Megan Mullally as characters spending their final days before a comet collides with Earth.
More highlights for TV this week below!
—Freeform (formerly known as ABC Family) has told some great LGBT inclusive stories, especially on The Fosters, which returns with a midseason premiere tonight at 8 p.m. Eastern. Following The Fosters, a new series, Recovery Road, debuts at 9 p.m. Eastern featuring openly-gay actor Daniel Franzese playing a former go-go boy in rehab.
https://www.youtube.com/watch?v=V8BQrvNI1t0
—Sorcery, style and sex are the perfect potion for SyFy's latest fantasy drama, The Magicians. These magic students are older than what you might be used to from Hogwarts, so expect things to get a little bit more scandalous. Among the collegiate conjurers is Eliot (Hale Appleman), portraying a gay student at Brakebills College. The series premieres tonight at 9 p.m. Eastern.
—MTV's True Life takes a look at two families with trans parents. The episode will focus on a black trans man in the South and his daughter, as well as a trans woman trying to reconnect with her children before leaving for the military. See how they navigate relationships with their children tonight at 11:30 p.m. Eastern.
—Award season soldiers on with the Screen Actors Guild Awards, Saturday at 8 p.m. Eastern on TBS and TNT. In addition to celebrating last year's performances and red carpet fashions, legendary comedy icon Carol Burnett will be honored.
What are you watching this week on TV?