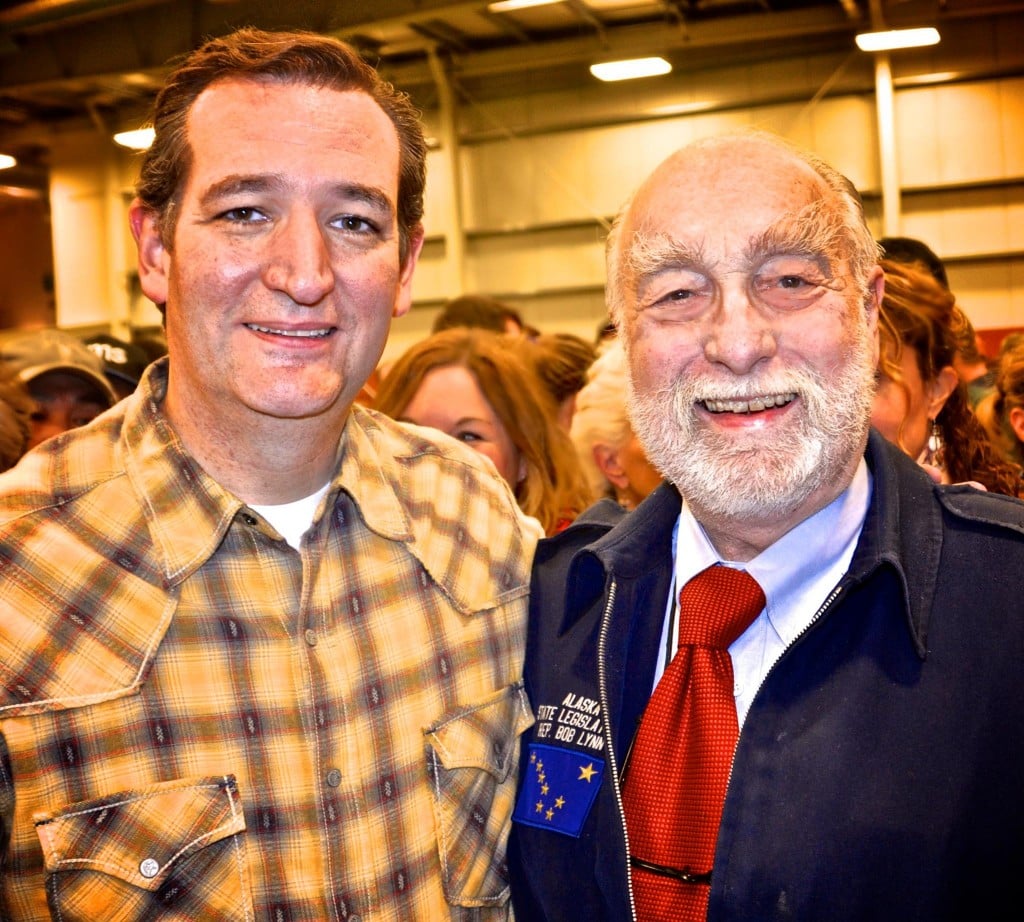 An Alaska Republican has pre-filed legislation that would end all weddings at the state's correctional facilities in order to prevent gay prisoners from getting married.
House Bill 218, by Anchorage GOP Rep. Bob Lynn (shown above with U.S. Sen. Ted Cruz), would also ban conjugal visits and bar the state from housing two spouses at the same prison — both of which are already prohibited by Department of Corrections policy.
Lynn, Alaska's oldest state lawmaker at 82, told The Alaska Dispatch News that he introduced the bill in response to the legalization of same-sex marriage.
"I can't imagine the problems this would cause for wardens," Lynn said.
Lynn's bill appears to be unconstitutional on its face, given that the U.S. Supreme Court has held prisoners have a right to marry, although corrections officials can regulate the weddings to some degree.
Sen. Berta Gardner, D-Anchorage, said Lynn's bill would be harmful to prison rehabilitation and re-entry efforts.
"If you believe people can choose their life partners, just because you have been convicted of a crime and are incarcerated doesn't mean you should lose those rights" unless there is a good reason, Gardner told the Dispatch News.
Department of Corrections spokeswoman Sherrie Daigle said prisoners are allowed to marry unless it would negatively impact their rehabilitation, public safety or institutional security.
Two other Alaska Republicans — Senator Peter Micciche and Rep. Dave Talerico — have pre-filed bills in their respective chambers designed to ensure that clergy aren't forced to participate in same-sex weddings, a protection they already enjoy under the First Amendment of the U.S. Constitution.
Rep. Andy Josephson, D-Anchorage, told the Dispatch News he was initially concerned about the bills from Micciche and Talerico but now considers them to be "fairly benign."
"This probably reflects existing law, but it is unfortunate that it emphasizes an intolerant and unwelcoming viewpoint," Josephson said.
Alaska's legislative session begins Jan. 20.