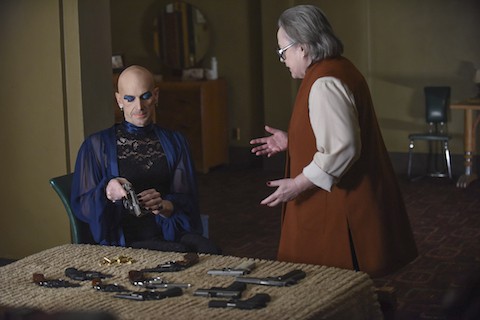 You certainly can't accuse the penultimate episode of American Horror Story: Hotel of lacking developments. However, the rapidly collapsing storylines reveal just what a scattershot and strange collection of episodes this has been.
Given the amount of seriously talented actors Ryan Murphy and company have assembled, it's understandable each one should get some meaty material. (You wouldn't book Kathy Bates for an under-five.) But with the sheer number of characters and stories, each one feels like a diversion, leaving me wondering what even was the central story of this season? Who is the protagonist here? Whom am I supposed to be rooting for?
There are still so many lingering questions leading into next week's finale despite the sizable amount of resolutions in last night's "Battle Royale." There was also a juicy bit of universe-building, linking Hotel a previous AHS iteration, and a couple of big characters biting the dust.
Let's dive in with our SPOILER-filled recap, below.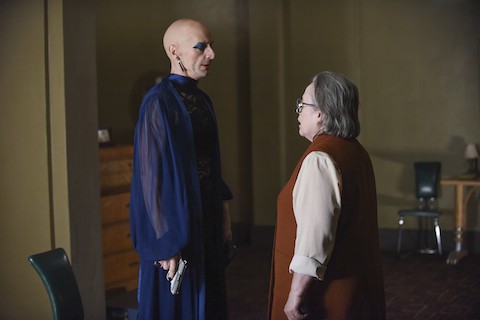 We pick up with Liz Taylor (Denis O'Hare) and Iris (Kathy Bates) on their Tarantino-esque rampage through the Cortez penthouse, firing off rounds into the Countess (Gaga) and Donovan (Matt Bomer). Filling her son with bullet holes was not part of Iris' plan, so she's a little distracted after he throws himself in front of Gaga.
In the confusion, the Countess manages to slip away, bloodied and wounded. Iris and Liz rush to Donovan's aid, and his final request is to be taken from the hotel so he's not trapped as a ghost among Gaga's former lovers. They make it outside, and he utters a final "Mom" as a sign of forgiveness to long-suffering Iris. Liz Taylor disposes of the body in the hotel's furnace and hands Iris the ashes. She spreads them all over one of the hotel beds and rolls around for a bit to say good bye. (And THAT is why they say you should never use the hotel comforter.) Seemingly at peace with the loss of her son, she instructs Miss Evers (Mare Winningham) to vacuum up his remains.
Iris and Liz know better than to assume Gaga merely dragged herself into a corner and died. They're right. She manages to get rescued by Sally (Sarah Paulson). While Sally stitches her up, she regales Gaga with her own tale of sorrow and woe. Back in 1993, Sally was an aspiring grunge rocker and heroin dealer. She forms a relationship with a musician couple that she swears admires her for her artistry, not just her product. The trio checks into the Cortez and starts a rollicking naked heroin binge (including one hypodermic needle being shot into what must be a very, very sensitive vein in particular on the male rocker). Sky high on dope and stupid in love, the naked threesome rolls around on the sheets until Sally starts her usual worrying over being abandoned. This time though she's got a great idea! She'll literally sew their bodies together so they can never leave her. She weaves them together side by side (less Human Centipede and more Human Foosball Team). It all seems to be the perfect plan (I guess) until WHOOPS they both die of a drug overdose and now Sally's got two corpses latched onto her.
(Quick aside: Love triangles abound this season. The most analogous to Sally's grunge throuple is Gaga/Valentino/Natacha, but we've also got complex relationships between Gaga/Tristan/Liz, Gaga/Ramona/the rapper, John/Sally/Alex, Gaga/March/Miss Evers, Gaga/Donovan/Tristan, Gaga/Donovan/Valentino and even one instance of Gaga/Tristan/Will Drake. Love triangles are a classic source of tension, but this installment of AHS appears to be leveraging an awful lot of them.)
At the Cortez, when it rains trauma, it pours misery. After two days of lying there attached to the dead bodies, the Addiction Demon shows up to torture Sally until the girl can't take it anymore. In one of the show's most grotesque scenes ever, she bites down on a leather strap and rips her flesh from theirs. Gross.
But why is she helping Gaga now? She wants John (Wes Bentley) back, and she needs Gaga to leave the hotel to get him.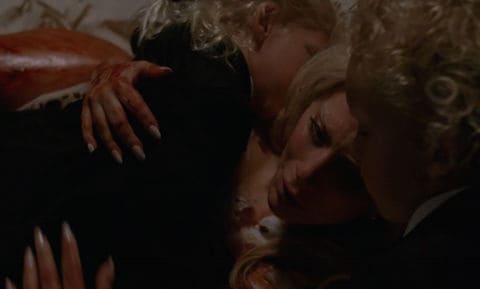 There's a small complication. Gaga has lost too much blood to be of much help to anyone. Sally brings in some of her "children," but Gaga resists the suggestion she should kill them to get back her own strength. The kiddos then volunteer to help their mother heal, and Gaga begrudgingly drinks their baby-vamp blood to restore herself.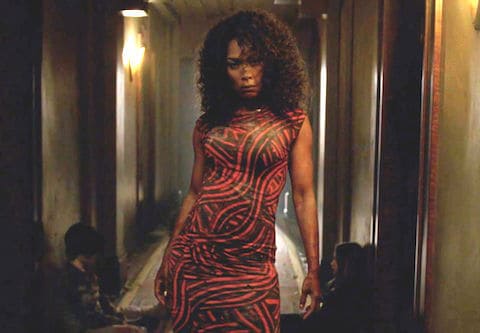 She'll need all the strength she can muster because Liz and Iris aren't giving up on taking her out. They turn to an imprisoned Ramona (Angela Bassett) for assistance. Iris is a little hesitant to ask Ramona for a favor, given the role she played in getting Ms. Royale tossed in the tomb in the first place. When Iris and Liz open the vault, they find all of Los Angeles' vampire kid gang killed and drained, as well as a staggering Ramona still hungry for blood. Liz and Iris explain their current predicament and promise to find her a fresh meal.
Their first idea is to head outside and boop someone on the head so they can drag their unconscious — but still living — body in to feed Ramona. When they hit the lobby though, they're met with a potential victim checking in.
And what a guest it is! It's Queenie (Gabourey Sidibe)! Yes, that Queenie, from season three of American Horror Story, Coven. The witch is back, and she's in LA for a taping of The Price Is Right. Liz recognizes her as one of those witches from the news. (You'll recall Coven ended with the new Supreme revealing the witches' existence to the world.) A powerful blood source like that seems too good to be true.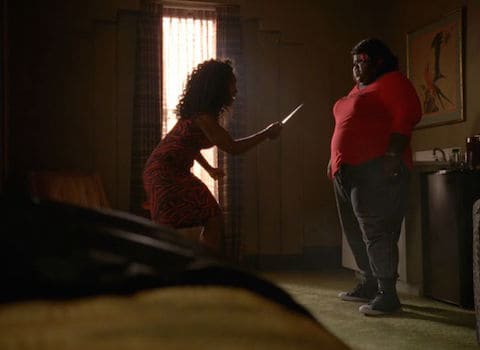 Liz and Iris lead Queenie up to her room, and the young witch immediately senses some bad juju. She's right to worry, and it's not long until a measles-plagued Ramona emerges from the tub and attacks. Queenie, you'll recall, is a human voodoo doll, so every injury inflicted on her is felt by Ramona. They battle for a bit, and it looks like Queenie is going to deliver a killing blow, when James Patrick March (Evan Peters) appears and fatally wounds the young witch. Since he's already dead, her powers don't affect him. He helps Ramona, because he needs her to kill Gaga in the Cortez so he can have her here forever. Ramona drinks up and is ready to throw down.
She faces off with Gaga, but when she sees the Countess in the flesh, her feels get the better of her. Gaga tries to apologize and then seduces Ramona. She offers to leave the hotel with her son, and hand the Cortez over to Ramona's care. After they do it, of course.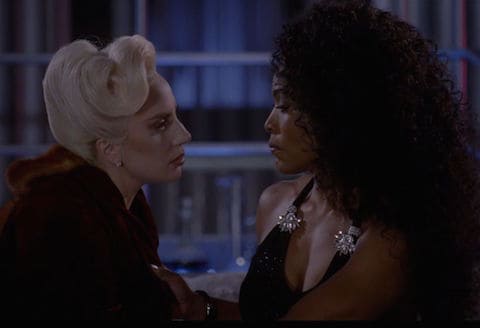 Meanwhile, at the Lowe residence, John, Alex (Chloe Sevigny), Holden (Lennon Henry) and Scarlett (Shree Crooks) are all back together again. John more or less explains to little Scarlett that basically Mommy and Holden are vampires now and he'll have to feed them. He heads out to grab some dinner for the family (takeout for him and Scar, some dude bound and gagged for Alex and Holden), but when he gets home, the house is empty. All that's there is a key to the Cortez.
He heads back to the hotel and finds Sally. She tells him he's got one last Ten Commandments kill to make: Thou Shall Not Kill.
Convenient then when he stumbles upon Gaga making her exit. He opens fire on the Countess, and, just in case you thought she might get away, he chops off her head to add to the trophy case. Sally tries to kill John when he's done, but March stops her. He's not done with the detective just yet.
But first, a celebration! March is thrilled to have Gaga there with him for eternity. She arrives for their first dinner as two ghosts, and March is so happy they will be spending forever together, he even forgives her for turning him in to the police all those years ago. Gaga tells him she wasn't the one to do it. That's when a frustrated Miss Evers reveals it was her who led the cops to the hotel so they could die together, and she could prove her dedication to him. March is disgusted and banishes her from his presence.
March raises a glass to a miserable Countess and to their forever future together.
And that's how we head into next week's finale! I've still got so many questions. What does March want from John still? Where are the rest of the Lowes? Do we really think Ramona survived her face-off with Gaga, or did the Countess double-cross her again?
Share your theories for the finale in the comments!