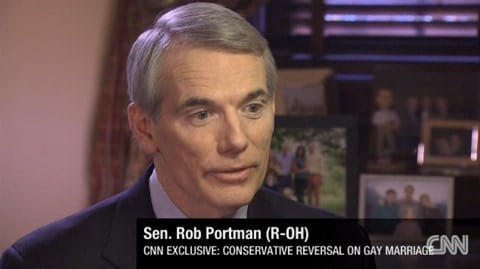 Back in November 2014, the National Organization for Marriage vowed to unseat Ohio Republican Rob Portman, who in 2013 become the first sitting US senator in the GOP to endorse same-sex marriage after his son, Will, came out as gay.
In a press release, NOM took credit for defeating pro-LGBT Republicans in the 2014 mid-term elections and declared that Portman, then considered a possible GOP presidential candidate, would be its next target:
Portman faces voters in Ohio in a 2016 reelection race, but has also been mentioned as a possible Republican candidate for president.
"Rob Portman can forget about getting elected President of the United States," said [NOM President Brian] Brown. "If he runs we will make sure that GOP primary voters are aware of his desire to redefine marriage and his willingness to see federal judges set aside the votes of 50 million Americans who enacted marriage amendments across the country because his son is gay. Rob Portman's son has a right to live as he chooses, but that does not give his father the right to redefine marriage. The same voters who just elected pro-marriage candidates like Joni Ernst, Tim Scott, Tom Cotton, Pat Roberts and Thom Tillis are not going to support someone like Rob Portman."
Brown said that if Portman runs for reelection, they will oppose him in Ohio. "The people of Ohio deserve a US Senator who respects their votes for marriage. We hope that Portman faces a stiff challenge in the Republican primary from a candidate who will proudly stand for marriage. We intend to oppose Sen. Portman for reelection, and if he survives a primary challenge we will urge Republicans and Independents to refuse to vote for him in the General Election .."
A month later, Portman announced he wouldn't run for president, and instead he's seeking re-election to his Senate seat this year. However, despite NOM's threats, anti-gay activists have failed, rather miserably, to come up with a viable challenger to Portman in the GOP primary.
Nevertheless, the Greene County Republican Party Central Committee on Tuesday voted to endorse perennial candidate Don Elijah Eckhart, a Christian conservative who has virtually no chance of defeating Portman. The Columbus Dispatch called the endorsement "symbolic":
Citizens for Community Values, the group that spearheaded the successful statewide ballot initative banning gay marriage before the U.S. Supreme Court OK'd same-sex marriage last summer, bragged about taking down Portman in a news release. The group conceded Eckhart was a protest candidate.
"Portman disappointed Christian conservatives when he flip-flopped on same-sex 'marriage' …  Portman came out in favor of homosexual 'marriage' after getting elected on a conservative platform. As it turns out, voters do not like hypocrisy," the release said.
The leader of Citizens for Community Values, Phil Burress, said: "There are three non-negotiables for social conservatives — life, marriage and religious liberty. On my scorecard Portman scores a "D" on life, "F" on marriage and "F" on religious liberty. Portman no longer deserves our support."
Ironically, anti-gay groups' opposition to Portman could actually play into the hands of Democrats. If Republicans refuse to vote for Portman in November, which NOM has advocated, it will benefit former Ohio Gov. Ted Strickland, who's viewed as one of Democrats' top prospects nationally to win a Republican-held Senate seat, according to the Associated Press.
Strickland, a staunch LGBT ally, was recently endorsed by Ohio marriage plaintiff Jim Obergefell.