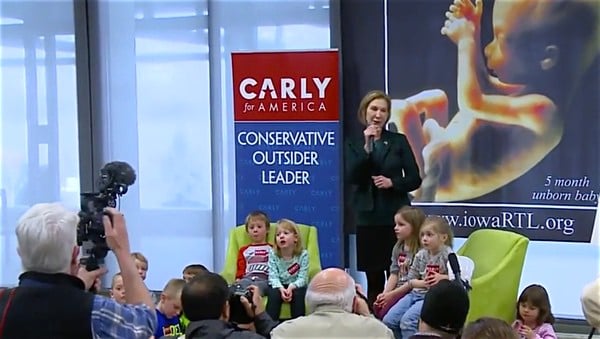 Republican presidential candidate Carly Fiorina is under fire for using a group of pre-schoolers as a set of campaign props at a stop in Des Moines without asking their parents.
The alleged ambush occurred when Fiorina hosted a "right to life" forum at the Greater Des Moines botanical garden. Entering the rally, before a crowd of about 60 people, she directed around 15 young children towards a makeshift stage.
The problem, one parent said, was that the children's parents had not given Fiorina permission to have their children sit with her – in front of a huge banner bearing the image of an unborn foetus – while she talked about harvesting organs from aborted babies.
Fiorina, a vocal critic of Planned Parenthood, exploded at a GOP debate earlier this year about a PP video allegedly showing "a fully formed fetus, on the table, it's heart beating, it's legs kicking."
Watch the ambush go down: