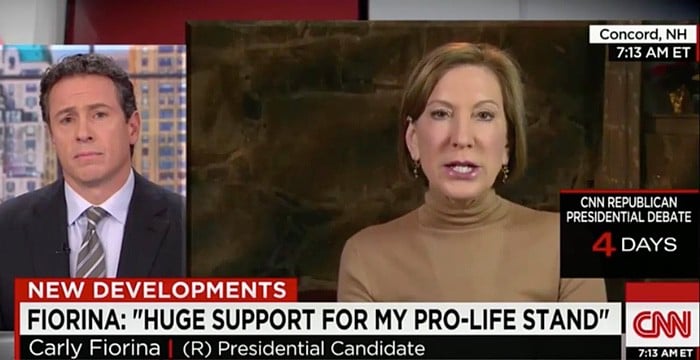 Chris Cuomo interviewed Carly Fiorina this morning about her reaction to Robert Lewis Dear's outburst in court – "I am a warrior for the babies" – and if she regrets her incendiary rhetoric about Planned Parenthood?
Fiorina, a vocal critic of Planned Parenthood, exploded at a GOP debate earlier this year about a PP video allegedly showing "a fully formed fetus, on the table, it's heart beating, it's legs kicking."
Asks Cuomo in the interview:
"Very often you've said 'Trump's got to watch what he says. It has implications.' Do you feel any sense of regret about how you characterized what was going on at Planned Parenthood after the attack in Colorado because of what the man said which seems as though he was influenced by some of the rhetoric that was coming out of you and others that painted a very ugly picture, an unfair one, about Planned Parenthood?"
Fiorina retorts: "Oh please, really Chris?"
Cuomo points out that the videos were edited: "Let's be careful about what we're saying."
"Oh let's be careful about what we're saying," Fiorina snaps. "Let's be very careful about what we're saying….It's clear what your opinion is, Chris. It's clear what your opinion is."
"What's my opinion, Miss Fiorina?", Cuomo asks.
"I think you've bought the Planned Parenthood line hook line, and sinker. So, good to know that."
"This is a typical left-wing tactic to try and shut down the truth by silencing people. This has happened over and over and over again," she says, adding, later, "It is unconscionable, to use your word, to deride people who are conservative their rhetoric but not to acknowledge that the left uses incendiary rhetoric all the time. It is not objective to say that the left wing does not try and shut down conversation that they don't want to have by accusing people of inciting others…Remember Sarah Palin? Sarah Palin was somehow responsible for the murder, the attack on Gabby Gifford…"
"I don't know anything about what you're saying about Sarah Palin. I certainly never made that allusion," says Cuomo.
"Oh of course you do."
Watch:
https://www.youtube.com/watch?v=rzvJV_WpPfo