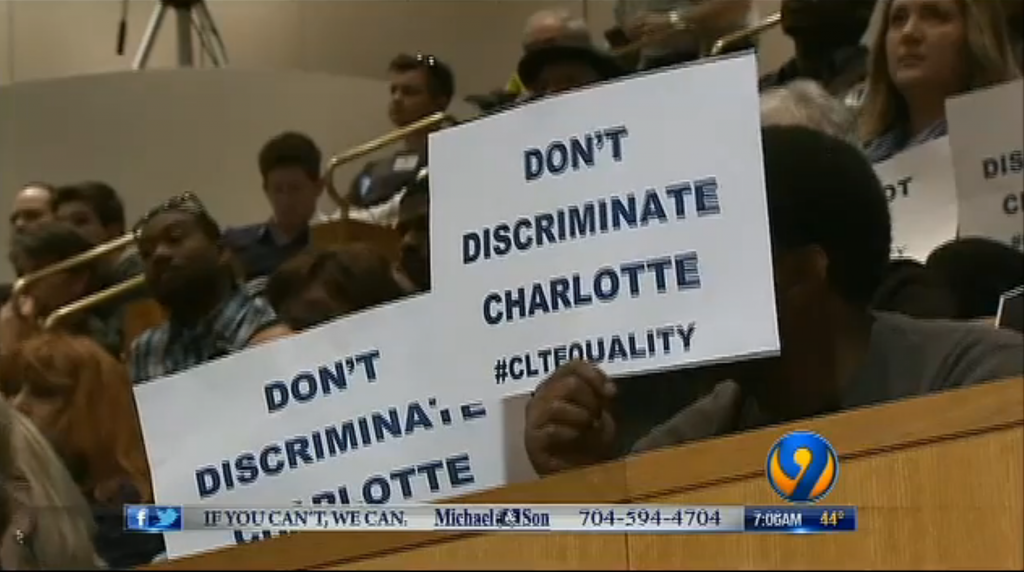 The City Council in Charlotte, North Carolina, is expected to vote on an LGBT nondiscrimination ordinance next month, even though state lawmakers are threatening to undo the measure if it passes.
Last March, the City Council voted down an LGBT nondiscrimination ordinance 6-5, following hours of heated debate (above). The vote came after the council removed a controversial provision that would have ensured transgender people could use public restrooms in accordance with their gender identity.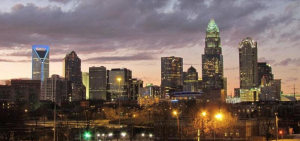 However, LGBT advocates believe there are enough votes on the council to pass the ordinance this year, according to a report from veteran local gay journalist Matt Comer:
The Mecklenburg LGBT Political Action Committee (MeckPAC) announced the long-expected vote and forum this weekend, after Mayor Jennifer Roberts had promised to bring the hotly debated proposal back to a vote early this year. …
Renewed discussion on the ordinances will likely again stir fierce opposition and debate. Last year, the NC Values Coalition and Charlotte First Baptist Church Pastor Mark Harris, along with other anti-LGBT groups and leaders, summoned a large crowd of dissenters to speak out at the City Council meeting before the vote was held. …
Local advocates expect the proposed non-discrimination measures to pass. An election campaign, Turn Out! Charlotte, endorsed a slate of pro-LGBT and pro-ordinance candidates for City Council. By some counts, Council has 8 votes to pass the measures. It requires only six votes to pass.
Charlotte, along with Jacksonville and Houston, is among the nation's largest cities that lack an LGBT nondiscrimination ordinance. Charlotte would also be the first city in North Carolina to pass such an ordinance, and anti-LGBT state lawmakers are already threatening to override it.
Erik Spanberg at The Charlotte Business Journal reported recently:
The Republican strategist told me Wednesday that the possibility of Roberts and council passing an ordinance is being closely watched by state lawmakers, who would likely move to undo it.
State Rep. Dan Bishop (R-Mecklenburg) told me an ordinance "is an extraordinarily divisive thing" and said he believes "it's opposed by an overwhelming majority of Charlotteans." …
"I hope cooler heads will prevail and they'll decide not to go down this path," he said. "I think they want to use the power of government to extract approval (for the LGBT community)."
Last year, Arkansas' Legislature became only the second in the nation to vote to prohibit cities from enforcing LGBT-inclusive nondiscrimination ordinances, joining Tennessee's. However, several Arkansas cities have since enacted the ordinances anyway, and the issue is currently being hashed out in court.
Watch a report on last year's council vote below.