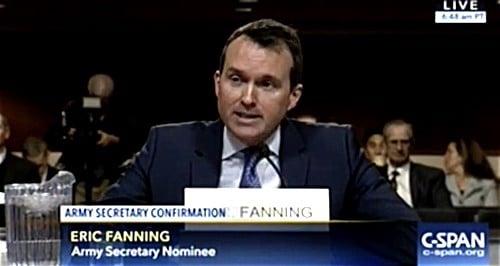 Yesterday, after months-long delay, the Senate Armed Services Committee held the confirmation hearing for Eric Fanning.
You can watch the full hearing below.
Fanning has been acting secretary of the Army for months since the GOP has held up his confirmation. Fanning stepped aside from his post earlier this month after Republican senators complained that Fanning's serving as acting secretary without being confirmed was illegal.
Fanning was nominated by President Obama last September, who said this at the time:
"Eric brings many years of proven experience and exceptional leadership to this new role. I am grateful for his commitment to our men and women in uniform, and I am confident he will help lead America's Soldiers with distinction. I look forward to working with Eric to keep our Army the very best in the world."
The timing for a vote on Fanning's confirmation is still unknown.
The Washington Blade reports that the confirmation hearing went smoothly:
No questions about sexual orientation or objections to having an openly gay Army secretary came up during the hearing.
Instead, members of the Senate Armed Services Committee asked questions about U.S. competition with Russia in the Arctic region, defeating the Islamic State of Iraq & Syria, the suicide rate among veterans and whether Gen. David Petraeus should be demoted after resigning his post following an extramarital affair. (Fanning said the general shouldn't be demoted.)
Sen. John McCain (R-Ariz.), chair of the Senate Armed Services Committee, was the most cantankerous of the committee members, but his objections were directed at Obama administration foreign policy and not Fanning.
"I am deeply concerned about the dangerous choice we are forcing upon our Army," McCain said. "The increasing velocity of instability combined with continued reductions in defense spending will inevitably lead to depleted readiness, chronic modernization problems, and deteriorating morale."
Read their full report here and watch the hearing yourself, below: