British artist Conor Collins has created another portrait of a popular figure in the media. Collins has been known to make portraits of individuals using hateful comments hurled at them on Twitter. However, this time, Collins is turning that formula on its head, and using hateful remarks spewed forth by his subject in order to pain their likeness. Collins' latest subject is, of course, none other than Republican presidential frontrunner Donald Trump.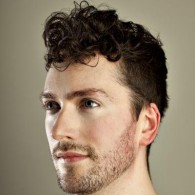 Collins tweeted his portrait of Trump on Tuesday, saying he made the portrait "using only the racist, sexist, ignorant and bigoted things [Trump] has said."
Collins spoke to The Huffington Post about why he decided to tackle Donald Trump for his latest painting:
"I painted him because it matters. He had gone beyond a joke. He is giving justification to millions of people for racism, sexism, bigotry and it has to end. It's 2016 not 1916 […] I only paint real people made out of real comments. The style may be a bit surreal, but the words on canvas are all things that are being said today…In this world where technology has brought us closer together than ever, people like him are trying to separate us. It has to stop."
Collins has previously painted portraits of Caitlyn Jenner and Tom Daley using hateful comments each received on Twitter after coming out as gay and trans, respectively.
My finished portrait of @TomDaley1994 made out of the homophobic tweets sent to him when he came out. #art pic.twitter.com/SUjrknKal9

— Conor Collins (@conartworks) April 17, 2014
My portrait of @Caitlyn_Jenner made using the death threats and hate tweets she received after coming out #art pic.twitter.com/GIpY6688n5

— Conor Collins (@conartworks) August 18, 2015
Collins also recently made a portrait of WWII code-breaker and father of the modern computer Alan Turing out of blood from gay men to call attention to discriminatory policies in the UK having to do with gay men donating blood.
Extraordinary portrait of Alan Turing by @conartworks composed of donated blood from #gay doctors #FreedomToDonate pic.twitter.com/1hoMXMfXS1

— Ori Chandler (@OriChand) November 16, 2015