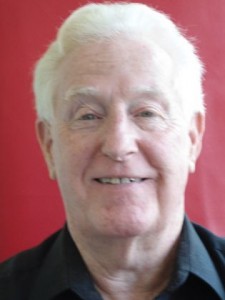 Tim Campbell, a Minneapolis gay activist and newspaper publisher who was known for his confrontational style, died from esophageal cancer on Dec. 26 at 76.
Campbell was best known as the founder and publisher of Minneapolis' GLC Voice newspaper from 1979-92, but even before that he'd emerged as the de facto media spokesperson for the Twin Cities LGBT community — although not everyone agreed with his tactics. In a self-authored obituary, Campbell recalled that because of his "street theater-type gay rights protests … it chagrined a few more polite gays and lesbians when he became their 'voice.'"
Campbell nearly came to blows with a Minneapolis city council member on several occasions, according The Star-Tribune. He also once set a fire in the Minnesota Civil Rights Department to protest its handling of gay issues, took a swing at a vice officer with his briefcase, brought a cream pie to an AIDS task force meeting, and dressed as a campy Lady Liberty to protest Jerry Falwell.
"He was the queen of guerrilla theater," longtime friend Dean Amundson told the newspaper.
Campbell came out in 1962 when he was called to register for the draft, according to his obituary. He checked a box saying he had homosexual tendencies, even though he'd never acted on them. As a result, he was forced to write "1-Y" as his draft status on job applications going forward, which led to him working in department stores and waiting tables.
After earning his master's degree from the University of Texas, Campbell was hired to teach at the University of Minnesota in 1972, but he was fired two years later due to heavy drinking, according to the Star-Tribune. Campbell sobered up in 1973 and went on to help other LGBT people recover from addiction, becoming the founding chair of the Lambda Sobriety Center in Minneapolis in 1981.
In his obituary, Campbell wrote that one of his most significant contributions to LGBT equality was helping to convince several publications — from The Advocate magazine to The New York Times — to begin using "gay" and "lesbian" instead of "homosexual."
Campbell also worked with gay marriage pioneers Jack Baker and Mike McConnell to conduct sensitivity training on LGBT issues at universities, police departments and other organizations in the 1970s.
"Campbell, Baker and McConnell encouraged each other in the belief that they could 'change the way people see gays' by working to do so," Campbell wrote. "That was the purpose of Jack and Mike's gay marriage, the first of its kind in the USA, in May, 1980."