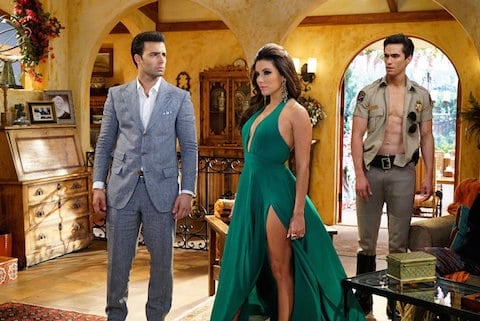 Check out our weekly guide to make sure you're catching the big premieres, crucial episodes and the stuff you won't admit you watch when no one's looking
— We're not saying you should tune in to NBC's Telenovela, which premieres in its regular time slot tonight at 8:30 p.m. Eastern, for cerebral comedy, but there are worse ways to spend 30 minutes than watching gay character Gael (Jose Moreno Brooks) rip his shirt off repeatedly.
More TV this week picks below!
https://www.youtube.com/watch?v=t6jIqdXmfWc
— It's a big week for Jane Lynch fans. The former Glee star is back in a big way with the return of Hollywood Game Night Tuesday at 8 pm. Eastern on NBC. Lynch is back as host with players including Kevin Smith, Tony Hale and Helen Hunt. Then, on Thursday at 9:30 p.m. on CBS, the funnylady stars in the new sitcom Angel From Hell.
https://www.youtube.com/watch?v=81HsL7p-DDI
— The final season of American Idol begins its trek back behind the barn for one final season starting Wednesday at 8 p.m. Eastern on Fox before the fading franchise finally gets put down.
https://www.youtube.com/watch?v=befGQC1iMgI
— We love it when Jennifer Lopez gets tough (second only to when Jennifer Lopez is Selena), so we're tuning in to Shades of Blue, premiering Thursday at 10 p.m. Eastern on NBC. The cop drama doesn't look great, but its star sure does. As the central protagonist and executive producer, it's all about Lopez as her character Harlee Santos toes the line of right and wrong.
https://www.youtube.com/watch?v=F_9kWxyv9PY
— If you didn't already believe Lip Sync Battle is for sure the gayest thing on the testosterone-fueled Spike network, get ready to see Channing Tatum perform "Let It Go" in full Queen Elsa drag Thursday at 10 p.m. Eastern. It's the TV equivalent of a bro job.
What are you watching this week on TV?