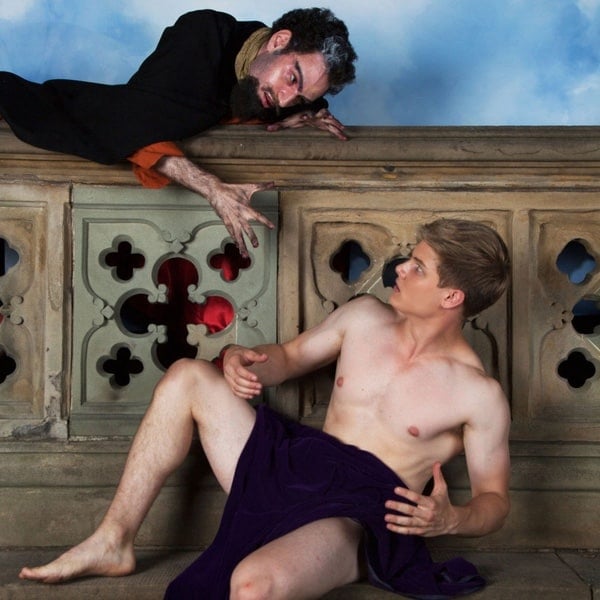 A new musical debuting at The Whitney Museum of American Art in New York draws inspiration from the travails of Justin Bieber to tell a queer story that's part opera, part cabaret and part tragedy.
Penned by Felix Bernstein, Bieber Bathos Elegy sees (an apparently scantily clad) Justin Bieber as an angel-figure who descends from the heavens to critique a re-telling of events from Bernstein's life.
The Whitney Museum is hosting a performance featuring cabaret drag, a Justin Bieber character as a "prophetic angel" and a gay youth chorus performing the song "Tomorrow" from the musical "Annie."
The play, "Bieber Bathos Elegy," is by New Yorker Felix Bernstein and "ponders the concept of bathos — the failure to achieve pathos — rendering the art of failure' into the art of perfection," according to an announcement by the museum, as well as "positioning queerness as normality and subversion as expected."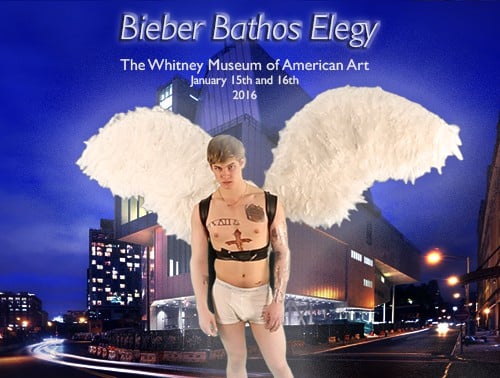 As for why Bernstein was drawn to Bieber as the subject for his musical, he tells The Huffington Post that the pop star served as a "muse of sorts" for him:
In his new album, he's trying to reach his ex, Selena Gomez, but failing to. That's typical of a pop album, but what got me was this interesting aesthetic maturity that comes when he realizes it's not all about reaching her, or saying you are sorry, or being in pain. There is also a formal complexity, a craft, that's for himself, not just for his fans, and not just for revenge.
I started making videos in high school and there is a lot of awkwardness about that now, as people either like me for that stuff, or dislike me for that stuff, or see me as childish, or not a serious artist, or a brat. But either way, it's an image of myself that I can't control, that I feel split off from, and yet I can't cut off, like Bieber's pressure to mature and to divorce himself from prior images, but also his addiction to the "hotness" of his self-image.
Bieber Bathos Elegy will play on January 15 and 16 at The Whitney Museum of American Art in New York.