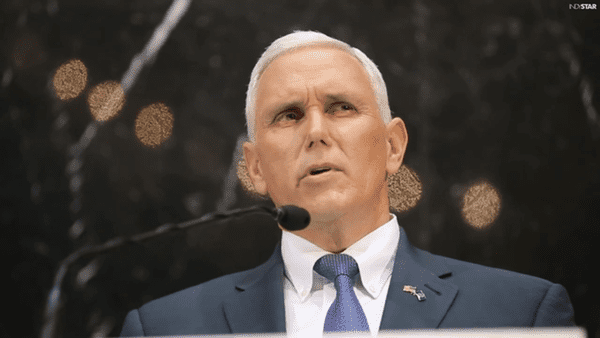 After much speculation as to where Indiana Governor Mike Pence would come down on two proposed LGBT Civil Rights Bills currently being debated in the Hoosier State, Pence on Tuesday night made clear that he prioritizes so-called "religious freedom" above LGBT rights.
Speaking before state lawmakers in his annual State of the State address, Pence said, "I will not support any bill that diminishes the religious freedom of Hoosiers or interferes with the constitutional rights of our citizens to live out their beliefs in worship, service or work." He added that state lawmakers will need to decide  "whether it is necessary or even possible" to balance LGBT rights with so-called "religious freedom."
[Pence] asserted that Indiana is already "an open and welcoming state that respects everyone" and said he believes "that no one should be harassed or mistreated because of who they are, who they love, or what they believe."
"And," he added later, "no one should ever fear persecution because of their deeply held religious beliefs." […]
"He has chosen his side — the religious extremists. The people who really do not believe that gay and lesbian Hoosiers should be entitled to equal rights. And he is certainly entitled to do that, but I think politically it was suicide," said Sheila Suess Kennedy, a professor at Indiana University-Purdue University Indianapolis and former director of the Indiana Civil Liberties Union.
Paul Helmke, a former Republican mayor of Fort Wayne and now an Indiana University professor, said Pence was "trying to have it both ways."
"He clearly sides with the evangelical side of the issue, but I think he left the door open a little," Helmke said. "I think it does put the business community on notice that he's leaning more the other way, but there's still possibly a chance they can get something through."
Freedom Indiana said of Pence's stance, "This is a complete letdown."
Lambda Legal's Christopher Clark lambasted Pence for suggesting that LGBT rights conflict with any constitutionally-protected freedom:
"It was disheartening to hear the Governor suggest that extending nondiscrimination protections to LGBT Hoosiers would possibly interfere with the Indiana Constitution's guarantee that all Hoosiers may enjoy the freedom to practice their respective faiths.
The idea that extending basic nondiscrimination protections to LGBT Hoosiers would violate the freedom to practice one's religion is nonsense. Nothing in the Indiana Constitution prevents the state legislature from protecting LGBT Hoosiers from the real harms caused by discrimination."
Business leaders were disappointed with Pence's statement as well:
"He had an opportunity to lead our state and call for decisive action to show that Indiana is a welcoming state, but his rhetoric indicates he is willing to let Indiana be a state that welcomes most, not all," said Peter Hanscom, initiative manager for the business coalition Indiana Competes. "While Governor Pence emphasized tonight that Hoosiers should not be harassed or mistreated, he said nothing about condemning Hoosiers being fired, removed from their home or denied public service because of who they are."
Republican legislator David Long, however, believes that the two Human Rights bills currently being debated could earn Pence's approval. "The two Senate Republican bills do deal strongly with religious freedom as well as civil rights," Long said. However, those bills have failed to gain favor with LGBT rights groups. SB 100's broad religious exemptions prompted Lambda Legal to label it "a wolf in sheep's clothing", whereas SB 344 fails to offer any protections for transgender Hoosiers. Neither of those two bills seem poised to quell the national uproar that emerged after Pence signed the Religious Freedom Restoration Act into law last year.
Watch Pence's remarks on LGBT rights, below: