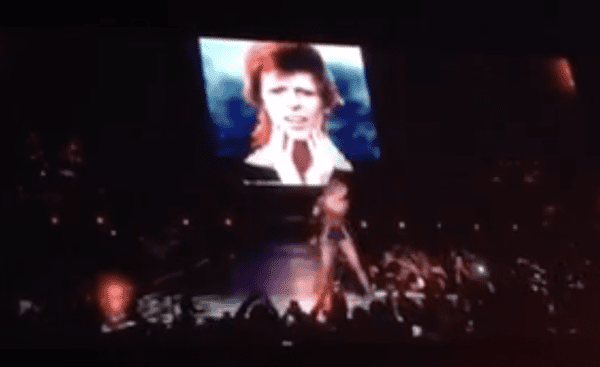 After posting a lengthy Facebook tribute to rock legend David Bowie on Monday, Madonna paid musical tribute to Star Man during her Rebel Heart concert in Houston, Texas on Tuesday.
Bowie passed away on Sunday after an 18-month battle with cancer. News of his death shocked his countless fans and those who knew him personally.
Speaking to the Houston crowd, Madonna said of Bowie,
"He was one of the geniuses in the music industry, one of the greatest singer-songwriters of the 20th century, and he changed my life when I went to see him in concert in Detroit. He showed me that it was OK to be different. And he's the first rebel heart that I laid eyes on."
Watch Madonna cover David Bowie's 1974 song, "Rebel, Rebel" below:
https://www.youtube.com/watch?v=w9EMYSj7bwA
And read her Facebook post honoring Bowie, here.
https://www.facebook.com/madonna/posts/10153856858894402