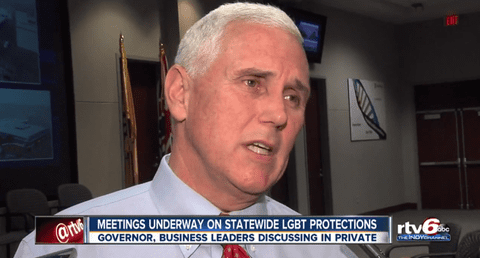 The National Organization for Marriage has launched a petition calling on Republican Indiana Gov. Mike Pence to oppose any effort to ban anti-LGBT discrimination in the Hoosier State.
As we mentioned last week, Pence is expected to reveal his position on LGBT civil rights legislation during his State of the State Address on Tuesday night.
NOM President Brian Brown writes:
Unbelievably, Republican Governor Mike Pence of Indiana is considering endorsing a Bathroom Bill in Indiana that would ignore the reality of being male and female and allow men to use intimate facilities reserved for women and girls (bathrooms, showers, locker rooms, etc.) He's considering kowtowing to the radical left despite the overwhelming voter rejection of a similar proposal in Houston just a few weeks ago.
Once seen as a conservative rising star among Republican elected officials, Pence badly mishandled the religious liberty issue last year in Indiana and signed into law legislation that seriously damages the ability of Hoosiers to live out their faith in their everyday lives. Now he is considering going even farther — letting men into intimate facilities reserved for girls and women.
NOM's petition had 1,664 signatures by Monday afternoon, but most comments below it were critical of the group.
Ironically, LGBT groups actually agree with NOM about the bills in question. One proposal to ban anti-LGBT discrimination contains religious exemptions so broad that Lambda Legal has called it "a wolf in sheep's clothing" and "a road map for discrimination against the LGBT community." Another would prohibit discrimination based on sexual orientation but not gender identity.
Not surprisingly, NOM isn't the only anti-LGBT hate group spewing the transgender bathroom myth in Indiana. Indianapolis-based Advance America is backing bills that would make it a crime for trans people to use public restrooms according to their gender identity, in addition to opposing proposals to ban anti-LGBT discrimination. Executive Director Eric Miller writes on Advance America's website:
It's really beyond any rational thinking, but the next session of the General Assembly, that gets underway on January 5th will be considering legislation that would give a man – including a sexual predator – a rapist or child molester – the right to be in a women's restroom and women's locker room with your wife, your sister, your mom and your daughter and granddaughter! This is the most dangerous legislation I have ever seen!
The Associated Press reports that Pence will have to "navigate a minefield" when he addresses LGBT rights on Tuesday:
"The governor of the state can't hide under his desk on an issue like this that he helped create," said Dan Parker, one-time state Democratic Party chairman who was also an aide to former Gov. Evan Bayh. "If he doesn't address the issue, I think he puts himself in a very small corner."
The religious objections law that Pence signed in March was met by extensive criticism from inside and outside of Indiana, charging that the law would sanction discrimination against LGBT people on religious grounds. Pence and lawmakers changed the law seven days later, but the issue drove a wedge between social conservatives and the Republican business establishment. …
Paul Helmke, a former Republican mayor of Fort Wayne, said Pence will have to navigate a "minefield."
"Everyone is going to be looking for how the governor deals with the religious freedom and same-sex marriage challenge that sunk him last year," said Helmke, who is now a public affairs professor at Indiana University.