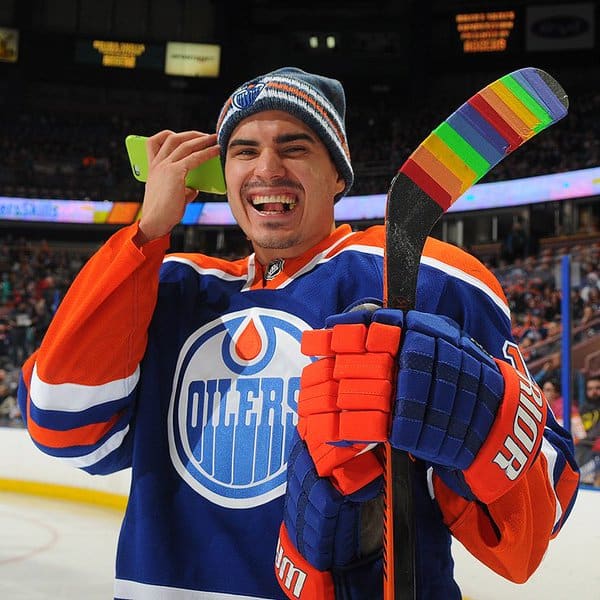 The Edmonton Oilers have become the first professional hockey team to use rainbow-colored "pride tape" in support of young LGBTQ athletes.
The colorful hockey tape began as a Kickstarter project and has already reached its funding goal to produce 10,000 rolls of rainbow-colored tape. More on the project from the Kickstarter page: 
Pride Tape is a badge of support from the teammates, coaches, parents and pros to young LGBTQ players. It shows every player that they belong on the ice. That we're all on the same team. And we need your help to make it a reality.
When Pride Tape is up and running, proceeds will support LGBTQ youth outreach initiatives, such as You Can Play and the Institute for Sexual Minority Studies and Services. That means every roll of tape will make an impact on and off the ice.
Oilers defenseman Andrew Ference has been an outspoken advocate for Pride Tape, playing an active role in the Kickstarter campaign. The Oilers debuted their Pride Tape on the ice on Sunday.
"Many view professional hockey players as role models and our team felt this was a great initiative to let every person know they're welcome in the game of hockey," defenseman Andrew Ference told the Oilers website. "We're all proud to play for a team and city that supports diversity and human rights."
The Oilers' Twitter account posted photos of the players' sticks wrapped in the tape before the competition began.
The Edmonton Oilers Community Foundation (EOCF) is also making a donation to become a Founding Partner of Pride Tape and help get the initiative across the goal line. The EOCF focuses on initiatives to promote education, health and wellness for youth.
"We are thrilled to be partnering with the Oilers and officially launching Pride Tape in Edmonton, a city that believes in diversity and human rights, and a city that proudly supports our LGBTQ community," said Dr. Kristopher Wells, Faculty Director with the Institute for Sexual Minority Studies and Services at the University of Alberta, one of the partners spearheading the campaign. "It's a local initiative with national reach and we're very excited to have the Oilers be the first to support this inclusive message on the ice."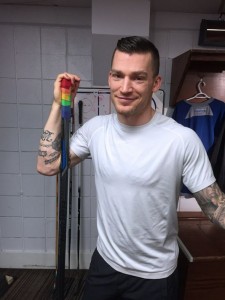 Metro Canada reports on Ference's staunch support of the Pride Tape campaign and LGBT athletes: 
"This conversation wouldn't have happened when I started playing hockey," he said.
Ference said all of his teammates were eager to endorse the idea and set an example for the young fans who came to watch.
"We know that trickle down effect will happen to the younger kids playing the same sport," he said. […]
Ference said growing up he had a friend who stopped playing hockey, because he was gay and didn't feel comfortable in the locker room. "It's something that means a lot to me, knowing that you've had friends who were directly affected."
Check out some photos of Pride Tape in action along with a video report on the campaign, below.
ICYMI, the #Oilers used @PrideTape during yesterday's @Rogers Skills Competition | VIDEO > https://t.co/KzoGMs2XP9 pic.twitter.com/xXwqJhbLAJ

— Edmonton Oilers (@EdmontonOilers) January 25, 2016
Signed hats for amazing #Oilers fans! pic.twitter.com/Ue6PCKijCW

— Edmonton Oilers (@EdmontonOilers) January 24, 2016
#PrideTape pic.twitter.com/zpIceBLt6V

— Edmonton Oilers (@EdmontonOilers) January 24, 2016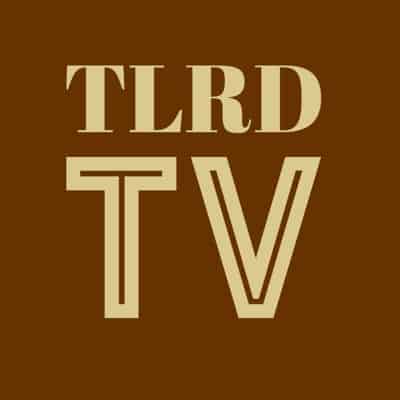 [Top photo via Twitter]