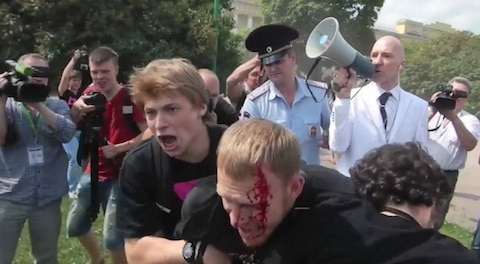 The Russian State Duma's Committee on Constitutional Legislation and State Building has rejected legislation that would have criminalized coming out as gay, Radio Free Europe reports:
The bill, initiated by lawmakers from the Communist Party, called for a fine of up to 5,000 rubles (about $65) for publicly expressing personal "nontraditional sexual orientation."
According to the draft bill, the punishment would have been up to 15 days in prison for making such expressions at educational or cultural facilities for youth.
Russia still bans "gay propaganda" to minors. In December, Sergey Alekseenko, the former director of Maximum, an NGO providing legal advice, psychological services or support for pro-LGBT persons in Murmansk, was criminally charged for a sentence printed on the organization's homepage on the Vkontakte social network.
The sentence? "Being gay means being brave and confident person, with dignity and self-esteem."
Russian President Vladimir Putin claimed in September in an interview with Charlie Rose on 60 Minutes that Russia does not oppress LGBT people:
"I would definitely condemn that. I believe there should not be any criminal prosecution or any other prosecution or infringement of peoples' rights on the basis of their race, ethnicity religious or sexual orientation. We don't have that…We have no persecution [of LGBT people] at all. People of non-traditional sexual orientation work, they live in peace, they get promoted, they get state awards for their achievements in science and arts or other areas. I personally have awarded them medals."