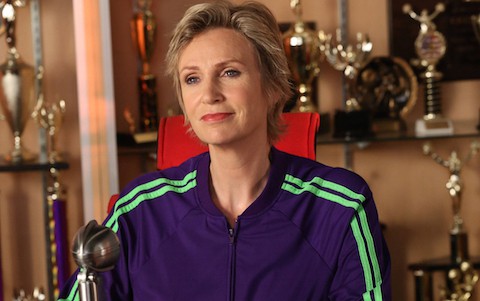 Not only is Jane Lynch one of the funniest faces on television, she's also one of the most famous lesbians in pop culture today.
Growing up in Illinois suburbs in the '60s and '70s, Lynch said she always wanted to do more of the activities boys were doing, but even once she realized she was gay, she didn't really come out until moving to New York. After honing her improv skills, Lynch went on to commercials, film and television work, eventually breaking in on films like Best In Show. Years of hilarious parts culminated in her award-winning role as Sue Sylvester.
As her profile increased, Lynch never shied away from her identity. She thanked her then-wife Lara Embry when she won her Emmy, and lent her voice to narrating the documentary Out & Proud, as well as an LGBT-focused video for President Obama. According to Lynch, being a lesbian hasn't had a negative effect on her career.
"I think if I were an ingénue – if I were Kate Winslet – it probably would hurt my career, but because I'm Jane Lynch and I'm a character actor, the world isn't projecting their romantic fantasies on me."
Bust a gut with some of our favorite Lynch roles below.
Lynch's first major role was in the Christopher Guest mockumentary Best In Show as butch lesbian dog trainer Christy Cummings. She went on to become a regular part in Guest's ensemble (which also included Jennifer Coolidge, Eugene Levy and Catherine O'Hara), appearing in subsequent films like A Mighty Wind and For Your Consideration. Her other film credits include The 40-Year-Old Virgin, Talladega Nights: The Ballad of Ricky Bobby and Wreck-It Ralph.
Of course, most people know Lynch from her breakout role on Fox's Glee. As the series' unhinged antagonist Coach Sue Sylvester, Lynch delivered gut-busting lines like "You may be two of the stupidest teens I've ever encountered—and that's saying something. I once taught a cheerleading seminar to Sarah Palin." The role earned the actress a Primetime Emmy Award, Golden Globe Award and Screen Actors Guild Award. It wasn't often that Lynch performed one of the show's signature musical numbers, so each time she sang was memorable, particularly the nearly shot-for-shot remake of Madonna's video for "Vogue."
Before she was Sue, Lynch played the hapless actress-turned-cater waiter Constance Carmell on Party Down. She appeared on the beloved cult hit's first season, before leaving for Glee (she was replaced first by Coolidge in season one's last two episodes, then Megan Mullally in the series' second season). Lynch has also had roles on Veronica Mars, Two And A Half Men and iCarly.
In 2012, Lynch appeared in a performance of Dustin Lance Black's play 8, about the struggle for marriage equality in California. The live performance featured Lynch as National Organization for Marriage's Maggie Gallagher appearing alongside Brad Pitt, George Clooney and others.
https://www.youtube.com/watch?v=Su2Eb7sWG4Y
Now you can see Lynch as host of the irreverent and surprisingly charming Hollywood Game Night where celebrities engage in silly mini-games and challenges.
What's your favorite Lynch role?