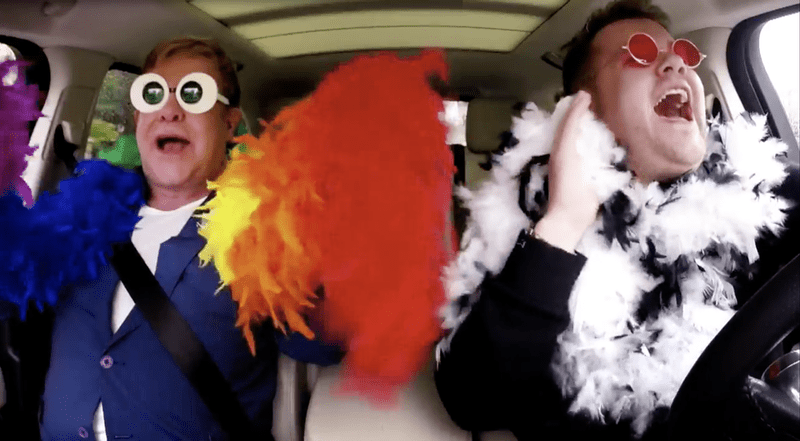 James Corden and Elton John performed a special Carpool Karaoke after the Super Bowl on Sunday, singing some of the Rocket Man's most iconic hits.
In between renditions of "Your Song", "I'm Still Standing", "Crocodile Rock", "Tiny Dancer", "Looking Up", "The Circle of Life" (from The Lion King), and "Don't Let the Sun Go Down on Me", John talked about his first hit song, his extravagant stage style and how becoming a father has changed him.
Of why he began to adopt flamboyant looks for his performances, John says, "I was't a lead vocalist, not like Bowie or Jagger, and I wasn't a sex symbol so I had fun with my outfits."
While discussing his record of throwing some diva-like tantrums over the years, Corden asked John what it's like now that he's a father when his kids throw tantrums. John says, "I love it. I haven't had one second in Zachary or Elijah's life where I felt that they'd be getting on my nerves. I can't believe I'm sitting in the car telling this, because 10 years ago if you had told me I'd be saying this, I'd say you're crazy. But it's changed my life. I thought I was too old to be a dad, but I'm not too old to be a dad. You're not too old to do anything. "
Watch James Corden and Elton John blast off, below.