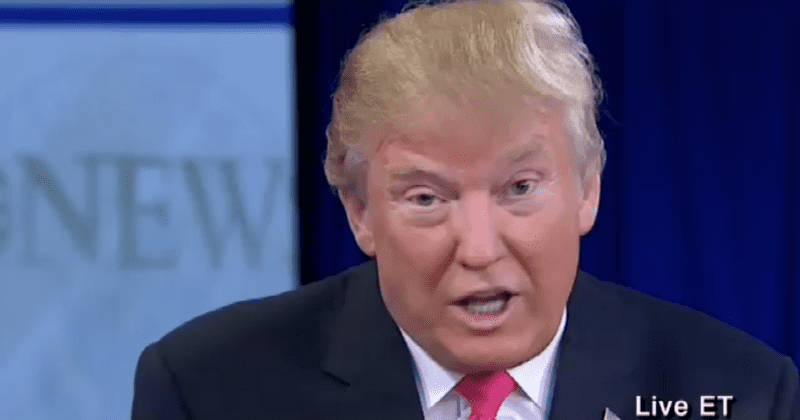 Donald Trump told George Stephanopoulos on Sunday that while he would prefer justices appointed to the Supreme Court be opposed to same-sex marriage, he understands how those in the pro-equality camp (i.e. more than half the country) would find that position divisive.
Stephanopoulos questioned Trump over his recent statement that he would consider appointing justices to the Court who want to overturn marriage equality. However, only days later, Trump told a prominent lesbian journalist that he would move LGBT rights forward if he were elected president. Stephanopoulos sought to make sense of what Trump's stance on gay marriage given those conflicting statements.
Said Trump, "This country is so totally divided…and we have to bring it together…It [marriage equality] has really been determined and we will see what happens." Pressed as to what position he would prefer a SCOTUS nominee to take on gay marriage, Trump said, "I would prefer that they stand against, but we'll see what happens. It depends on the judge."
Referring back to Trump's interview in which he promised forward movement on gay rights, Stephanopoulos asked, "How does that move us towards equality for gays and lesbians?"
Then the word salad really came out: "Look, George, very simple. We're going to bring our country together. We're going to unify our country. We're going to do whatever we have to do. I'm gong to put the absolute best judges in position. If their views, we're going to see what their views are,  I will make the determination at that time."
Of people who find the notion of appointing a Supreme Court justice who wants to overturn gay marriage, Trump added, "I think I understand what they're saying and we're going to see what happens. It's a long way off, George. It's a long way off."
Watch, below.
https://youtu.be/f0zDCElZJ7g?t=5m49s