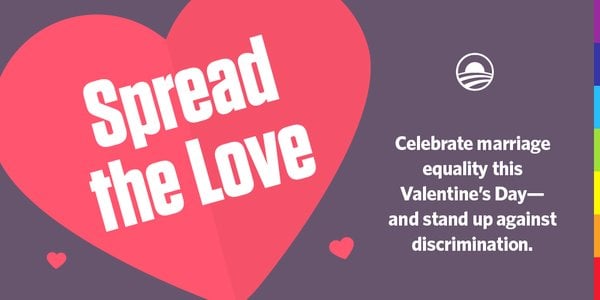 President Obama sent out three tweets over Valentine's Day weekend in celebration of the holiday, all of which called upon Americans to stand up to discrimination and voice their support for equality.
The tweets came on the heels of Obama's appearance on the Ellen show on Friday in which he praised host Ellen DeGeneres for all she has done to change hearts and minds on the subject of gay rights. DeGeneres had mutual praise for Obama and thanked him for his efforts in advancing equality.
In his tweets, the president called on people to "Retweet if you believe #LoveIsLove" and to sign a petition saying that says, "No one should ever be discriminated against because of who they are or whom they love."
President Obama also tweeted, "No matter who you are or whom you love, celebrate #ValentinesDay with pride. #LoveIsLove"
Check out all of the president's tweets, below.
Retweet if you believe #LoveIsLove. pic.twitter.com/ssMsbWMcXE

— Barack Obama (@BarackObama) February 13, 2016
Stand against discrimination—join the fight for equality. https://t.co/ZUDqZ6fbQM #LoveIsLove

— Barack Obama (@BarackObama) February 13, 2016
No matter who you are or whom you love, celebrate #Valentines Day with pride. #LoveIsLove pic.twitter.com/btFuHnIEfV

— Barack Obama (@BarackObama) February 14, 2016