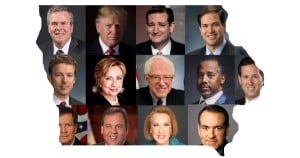 TONIGHT: The Iowa caucuses: We'll have the results and and related news on our Iowa Caucus Updates page.
2016 ELECTION: Bernie Sanders supporters marched in Manhattan on Saturday: "…thousands of Bernie Sanders supporters gathered in Manhattan's Union Square and then marched down Broadway to Zuccotti Park, the location of 2011's Occupy Wall Street demonstrations. Similar marches took place yesterday in about three dozen cities around the country to little to no mention by the press, including the New York Times, which yesterday endorsed Hillary Clinton. The video below was taken at the corner of Prince and Broadway by the husband of Father Tony Adams."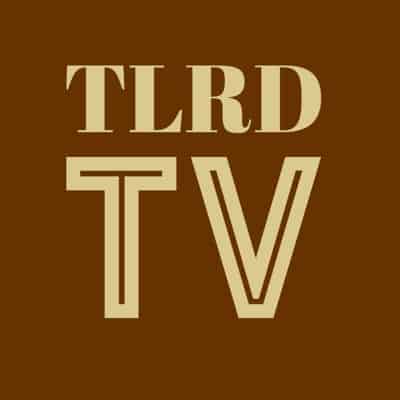 VIDEO: Hillary supporters create 'fight song'.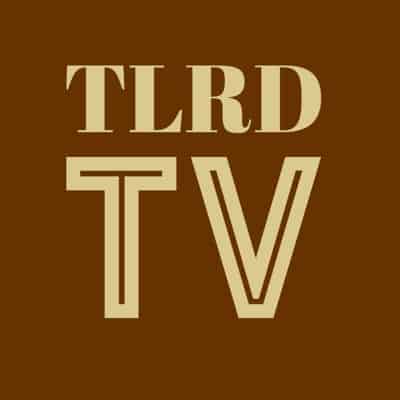 BUSINESS: Google's parent company Alphabet is set to report earnings today and could top Apple as the largest company in the world in terms of market value: "The Silicon Valley rivals could trade places soon, given how rapidly the financial gap between them is narrowing. At the end of trading on Friday, Apple's market value stood at $540 billion; Alphabet was worth $524 billion. That's a dramatic swing from where things stood just 13 months ago. Apple then boasted a market value of $643 billion, almost twice Google Inc.'s $361 billion."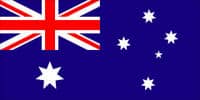 AUSTRALIA: Gay community in Victoria to receive formal state apology for homosexuality convictions: "In a symbolic bid to rectify past injustices, the historic event will take place in the Victorian Parliament on May 24 – three decades after homosexuality was removed from the state's statute books. Premier Daniel Andrews will make the announcement on Sunday as he attends the annual Pride March for the gay, lesbian, bisexual, transgender and intersex (GLBTI) community. Federal opposition leader Bill Shorten is also expected to take part in the event."
TAIWAN: The city of Tainan becomes the fourth to register gay couples: "Tainan's mayor, William Lai, has announced that the city will begin to allow household registration of gay couples. It joins Kaohsiung, Taipei and Taichung..Two weeks ago Taiwan elected their first female president Tsai Ing-wen who has come out in support of same-sex marriage in the past. LGBT activists hope she will push through recognition of gay marriage during her presidency."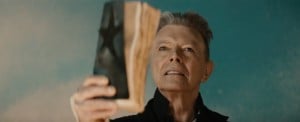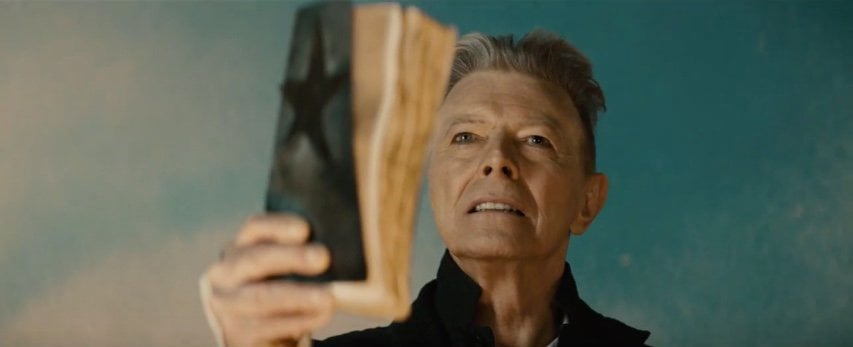 FINAL WISHES: David Bowie's will revealed: "David Bowie's will asks that his ashes be scattered in Bali, an island that is part of Indonesia.  20-page document, filed Friday in court in New York, leaves the bulk of his estate, valued at about $100 million, to his two children and his wife, supermodel Iman, according to the Associated Press."
AFRICA: Poachers shot down a helicopter that was trying to track them: "According to information released by the Friedkin Conservation Fund this week, the pilot, Roger Gower, was flying above the Maswa Game Reserve in Tanzania. He was shot down near the carcass of an elephant who was recently killed, and died after he landed. Gower, originally from the U.K., worked ferrying conservationists to camps and patrolling the area for carcasses."
https://www.youtube.com/watch?v=zD1g5Qd1I3U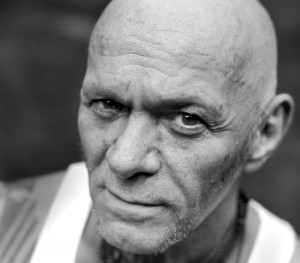 MUSIC: The Junior Vasquez post you didn't know you needed.
THE DAY I TOLD MY SONS I'M GAY: A man talks about a difficult coming out: "There was silence. Confusion filled the room. I wanted to disappear and not look at them. I was beside myself. Tears poured down my face. What was I doing to these innocent lives? They didn't deserve this.  My tears brought great sadness to the boys because they felt my pain. We all cried. The sobbing was eventually broken by my eldest son. 'That's okay Dad, as long as you are not 'gay gay' like Uncle Ricardo.'All three of us suddenly burst into laughter. My oldest has always known how to say the right things."
MAKING A MURDERER: Steven Avery's new lawyer gives interview: "Generally, since 2007, there have been significant advances in forensic testing … the clearest way to do this is with scientific testing," Kathleen Zellner told Dateline NBC's Andrea Canning in her first TV interview since taking the case. "Am I going to tell you exactly what it is? I am not. But it's been a long time. There was a lot of evidence that wasn't tested."
LESBIAN SEX CELL HELL: A classy report on New Jersey Housewife Teresa Giudice's jail term for fraud: "Day two wasn't much better. The mother of four girls recounts the unexpected sounds and scents of nocturnal canoodling arising from two of her five roommates. Giudice had just said her nightly prayers, made the sign of the cross, and was falling asleep when she heard a "muffled sound" through the stillness. 'I could see two women … writhing around … I cannot believe this is happening!' she writes."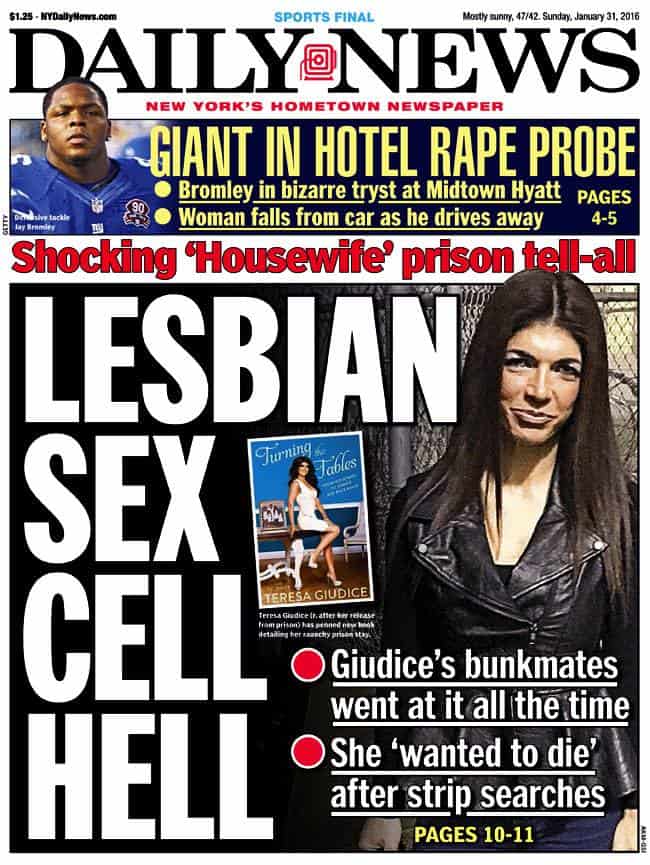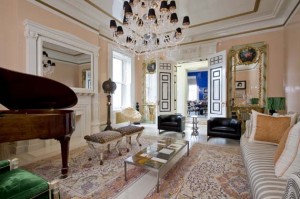 REAL ESTATE: Judy Garland's former Dakota apartment is for sale: "The decoration might not be everyone's taste, but the proportions of the rooms in the expansive nine-room apartment feature 13-foot ceilings that seamlessly flow from one to the other. The general layout of the apartments in the building is in the French style of the period, with all major rooms not only connected to each other, in enfilade, but also accessible from a hall or corridor, an arrangement that allows a natural migration for guests from one room to another and is especially nice for entertaining. The principal rooms, such as parlors or the master bedroom, face the street, while the dining room, kitchen, and other auxiliary rooms are oriented toward the courtyard. Some of the drawing rooms are 49 feet long. The living room in Garland's apartment has French doors leading to a formal dining room overlooking the courtyard, a large eat-in kitchen, a library, and seven wood-burning fireplaces. There are three bedrooms, two and a half baths and over 4,700 square feet and it can be yours for a cool $16.75 million."
WEATHER: When your Australian friend tells you not to go outside, don't go outside.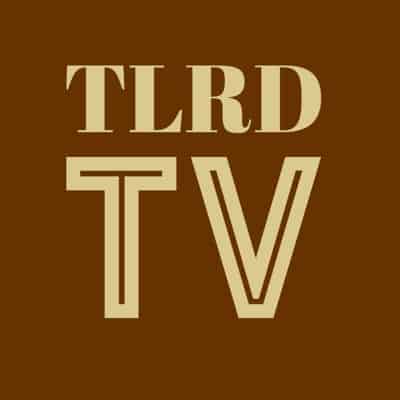 MONDAY MORNING MAN: Grease Live! star Aaron Tveit.
https://instagram.com/p/5jQdzJLeON/?tagged=aarontveitshirtless