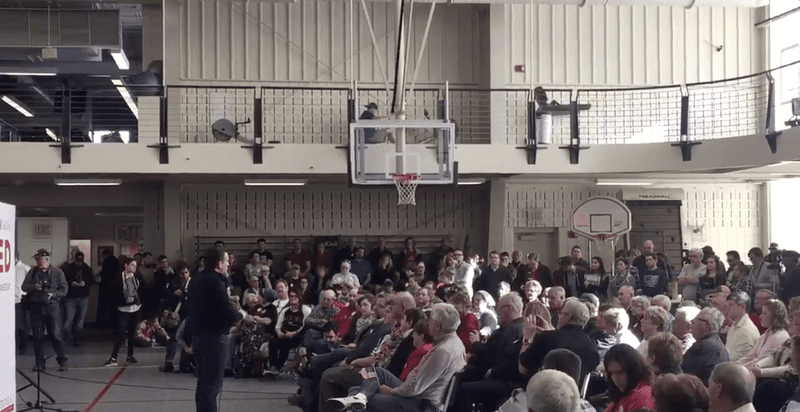 While Ted Cruz walloped Trump and Hillary Clinton edged out a razor-thin victory, some on social media are declaring another person the true winner of the Iowa Caucuses: Rowing Dude.
Rowing Dude is a man who was caught on video by journalist Jon Ward getting in his workout at the Jefferson Community Center while Ted Cruz held a campaign rally. Rowing Dude was apparently undeterred by Cruz's gathering or his ranting about 5 left wing judges on the Supreme Court removing Ten Commandments monuments all around the country. He had his eye on the prize.
Rowing dude don't care about the Iowa caucuses pic.twitter.com/dlCLalpTcr

— Jon Ward (@jonward11) February 1, 2016
People on Twitter were quickly taken with Rowing Dude, though some were concerned about his form.
https://twitter.com/TonyFischer/status/694253429233946629
Needs some work at the catch.https://t.co/mfV5IGAiXJ

— Ali Watkins (@AliWatkins) February 1, 2016
Others merely marveled at the optics and reveled in the hilarity.
MAKE AMERICA ROW AGAIN. https://t.co/qW7ykR5knO

— John Lovett (@jlove1982) February 1, 2016
This is awesome. "Don't care about 'Merica. Gotta get my 30 minutes in" https://t.co/LYFLWGmPeh

— Ryan York 🌪 (@cyyork) February 1, 2016
I'd like to think rowing dude is the only Iowan who fully researched and picked his candidate weeks ago. https://t.co/xseZGwWs48

— Michael Marinaccio (@Naseeoh) February 1, 2016
Ward himself later tweeted, "all due respect to @tedcruz & @HillaryClinton but i think rowing dude won the Iowa caucuses."
Rowing Dude was, however, not the only fitness enthusiast who wouldn't let Cruz's presence derail their workout.
Cruz event in Jefferson Iowa community center sharing the gym with a personal trainer & his trainees #IowaCaucus pic.twitter.com/5mflTQwnBY

— Jon Ward (@jonward11) February 1, 2016
[h/t GQ]