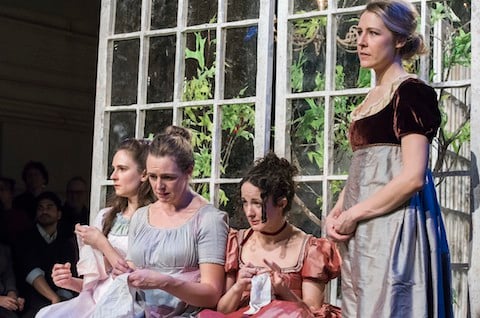 Bedlam's terrific staging of Sense & Sensibility, which opened Off Broadway last at the Gym at Judson, is everything great about reading an Austen novel: wry, sharp-witted, engaging, intimate, and often hysterical. It's also imaginative in such a way that seems to recreate how readers might actually picture the story in their heads.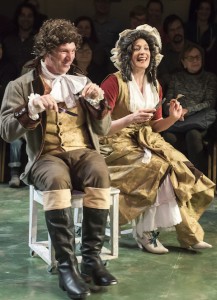 Initially mounted by the acclaimed downtown company in 2014, the production features a nimble and chameleon-like ensemble of 10 juggling the novel's full array of characters. Under the direction of Eric Tucker, the company performs Kate Hamill's stage adaptation using everything in sight — including tables and chairs that zip across the stage on wheels, portable doors, tree branches, and not least of all their pliable selves.
The show kicks off with a cast dance party to a radio hit, during which they remove their street clothes to reveal period-suggestive costumes, setting the energy level for the performance. The long, narrow playing space jives with the theatre's gym-like setup (playing is really the right word considering how much fun is had), and the audience flanks the action on either side. On one end, a dressing room is visible through an open door frame.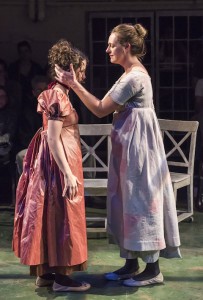 A quick primer: Like most Austen heroines Marianne and Elinor Dashwood have excellent breeding and little money, so marrying well is the goal. Marianne (Hamill, also the playwright) is pretty much a walking nerve ending, while Elinor (Andrus Nichols, superb) is a pillar of good sense who keeps her feelings in check. Both of them meet men who variously do them wrong to different degrees, and their rivals in love are nowhere near their equals. They have a sensible, adoring mom (Samantha Steinmetz) and also fall in with a kooky mother figure (Gabra Zackman) who escorts them around London.
As Elinor, Nichols has the difficult task of holding her emotions back from the brink while still letting them be known, which she does with great nuance and depth. Hamill, who's done a bang-up job with the script, lands on Marianne's relative immaturity and near petulance without slipping into childishness. Jason O'Connell is particularly charming as both Ferrars brothers, equally convincing as a romantic lead and a total buffoon.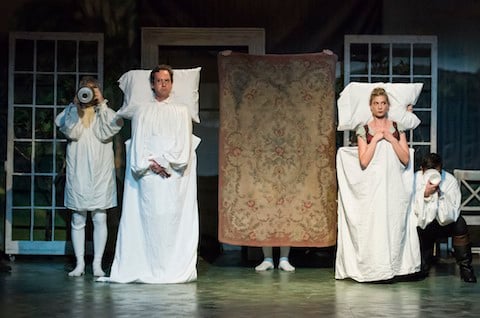 Austen novels aim to entertain, and Bedlam's production is a slam-dunk on that score. From a gravity-defying scene in bed (see above) to a carriage ride using only people as special effects, the company's stagecraft is whimsy, dynamic, and refreshingly lo-fi. The physical production also manages to capture swells of intense feeling — like heartbreak and betrayal — by doing a lot with very little.
That's the mark of a great writer, and Bedlam's winning strategy for telling their stories.
Recent theatre features…
Backstage Farce 'Noises Off' Opens on Broadway: REVIEW
Towleroad's Top 10 Plays and Musicals of 2015
Cynthia Erivo Soars in Broadway's 'The Color Purple' with Jennifer Hudson and Danielle Brooks: REVIEW
Al Pacino Opens in 'China Doll' on Broadway: REVIEW
Andrew Lloyd Webber's 'School of Rock' Musical Blares Onto Broadway: REVIEW
Follow Naveen Kumar on Twitter: @Mr_NaveenKumar (photos: ashley garrett)