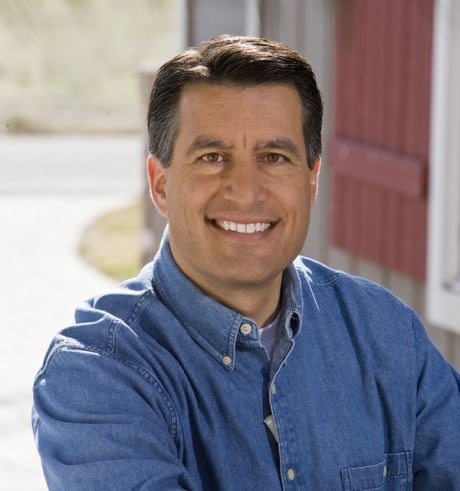 Well that didn't take long.
After reports emerged Wednesday that Brian Sandoval, the Republican Governor of Nevada, was being vetted as a possible nominee to replace Antonin Scalia on the Supreme Court, Sandoval on Thursday said he would be taking himself out of the running for that post.
The Washington Post broke the story yesterday of Sandoval's consideration, reporting that Sandoval told Sen. Minority Leader Harry Reid that he was interested in a spot on the Court. His tune has since changed.
"Earlier today, I notified the White House that I do not wish to be considered at this time for possible nomination to the Supreme Court of the United States," Sandoval said. "I have also spoken to Senators Reid, Heller and McConnell and expressed the same desire to them. The notion of being considered for a seat on the highest court in the land is beyond humbling and I am incredibly grateful to have been mentioned." […]
Reid has maintained a friendship with Sandoval over the years that many have found remarkable given they come from different ends of the political spectrum:
"I don't pick the justices, but I know if he were picked, I would support the man," Senate Minority Leader Harry Reid (D-Nev.) told CNN Wednesday, trying to show his desire to compromise. "He's a good person, has a great record, and has been a tremendously good governor in spite of having to deal with some very big problems there."
Reid no doubt knew the trouble Sandoval would cause for the GOP. As John Fund of the conservative National Review put it, "How better to apply pressure than to appoint a Hispanic Republican — and former federal judge — who might fracture the united front of GOP senators who have come out against an Obama nomination?"
Senator Heller, Nevada's Republican Senator, supported Sandoval's decision to withdraw but had also said he would support him if Obama nominated him to the Supreme Court. Via ABC News: 
Heller, Nevada's junior senator, reacted to Sandoval's decision, saying in a statement, "As a friend and former colleague of Governor Sandoval's, I believe he is eminently qualified for this position. But, I support his decision to withdraw his name from consideration for the Supreme Court vacancy. I hope the next president will consider him in the future."