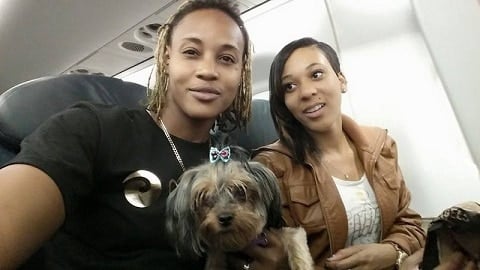 A Detroit lesbian and Army veteran has been imprisoned for possession in Kuwait on what her family has said are trumped up charges. Â 
Monique Coverson and her partner were arrested last May for having an ounce of synthetic marijuana which is legal in Kuwait. By the time the couple went to trial, that one ounce had become a pound of hash.
Converson's mother Michelle Jackson said:
"The lawyer is saying, 'Give me 30 days.' That became 60 days, and now it's a year she's in prison.
"[Monique] told me, 'Mom, they planted this on us. We didn't have anything like that."
According to Click on Detroit, Converson's sister Ashley Frank added that the couple were targeted because "they live an alternative lifestyle" which is not acceptable in Kuwait.
https://www.facebook.com/Freemoniqueandlarissa/posts/415251268682599
Although both women's families say that local prison conditions are livable, they are concerned about their safety once they are transferred to a national prison.
Converson's family have set up a Facebook page demanding her release.
(Image via Facebook)