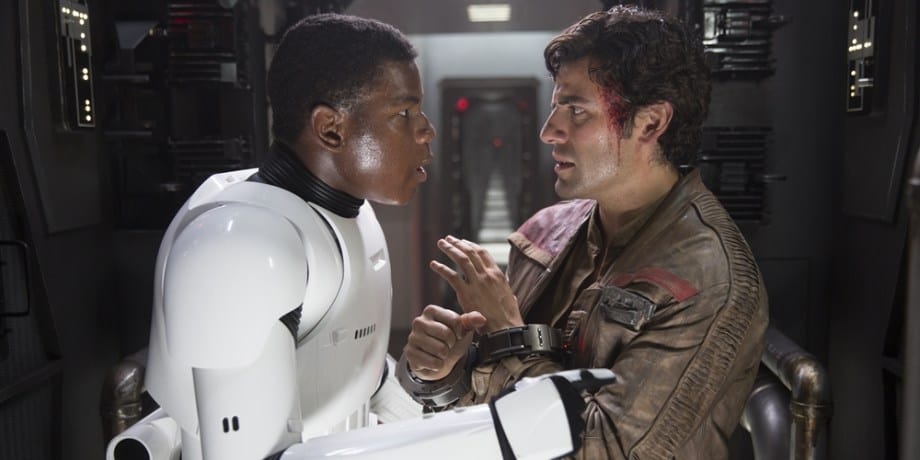 Despite having previously dashed hopes of a gay romance between Poe Dameron and Finn in the new Star Wars franchise, John Boyega is now giving fans new hope that such a romance could be on the horizon.
Wackstage at the BAFTA awards, Boyega was asked again about the possibility of a same-sex romance in the movies. Boyega hinted that it could happen. He also brought up how much fans seems to want it to happen as evidenced by reaction to a video he posted on Instagram and Twitter.
"What's so funny, I posted a video the other day of myself working out, skipping, and in the background Oscar is just like, 'Yeah baby go on!' and people just went crazy.
"But as far as I'm concerned, when JJ [Abrams] sat us down to go through the script, it was a bromance," he continued. "But now I'm learning what Mark Hamill said before when he didn't know that Darth Vader was Luke's father: you never know what they're going to pull. I'm looking at the director Rian [Johnson] closely so he can get me involved early, so I can prepare myself. So who knows?"
Star Wars: Episode VIII director Rian Johnson seems to be into the idea, as this tweet suggests:
https://twitter.com/rianjohnson/status/687503266121297924
Watch the video of Boyega training with Isaac cheering him on, below.
@mrcalliet influenced my cardio routine today. Doesn't hurt that I have Oscar Isaac in the background cheering me on pic.twitter.com/RzEpG5Zy9Z

— John Boyega (@JohnBoyega) February 11, 2016
And for Star Wars geeks who also happen to be Hamilton geeks, enjoy this too-perfect mash-up.
http://buzzfeedgeeky.tumblr.com/post/136817441563/continuants-hamilton-lyrics