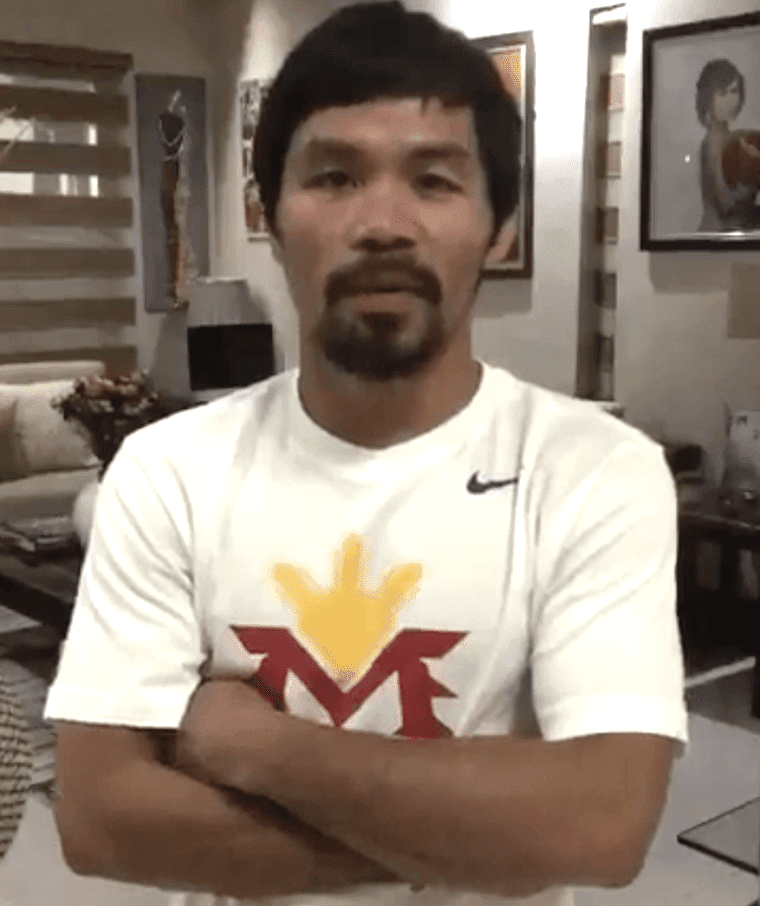 Boxer Manny Pacquiao shows no sign of backing down from his anti-gay views despite being fired by Nike over his "abhorrent" comments saying that gay people are worse than animals.
In an Instagram post shared just hours after Nike announced it would be ending its relationship with Pacquiao, Pacquiao quoted a passage from the book of Leviticus which calls for men who have sex with men to be put to death.
The Filipino news agency ABS-CBN captured an Instagram Manny put up early Thursday morning quoting Leviticus 20.13:
"If a man has sexual relations with a man as one does with a woman, both of them have done what is detestable. They are to be put to death, their blood will be on their own heads."
The post has since been deleted.
TMZ Sports spoke with Manny's longtime promoter Bob Arum who says although he finds Manny's views abhorrent, he understands them because they're rooted in religious belief. Manny is a born again Christian.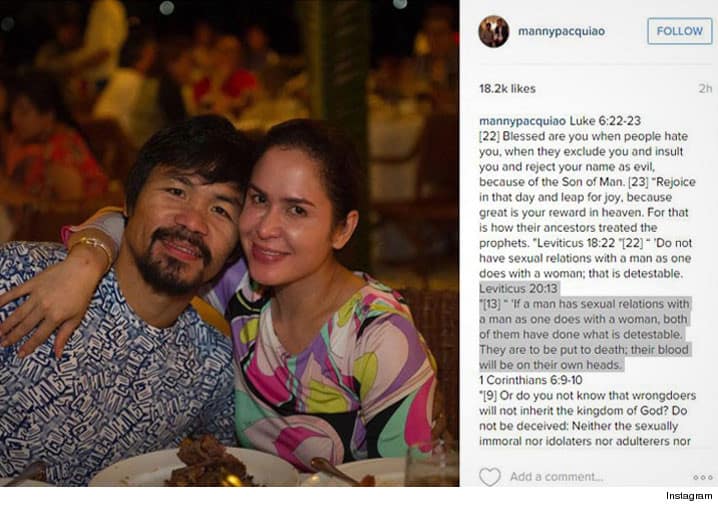 Pacquiao has quoted this scripture before, back in 2012, when he blasted President Obama for embracing same-sex marriage.
While Pacquiao has been receiving blow-back for his anti-gay remarks, people in the Philippines, where Pacquiao is a member of the nation's house of representatives and currently vying for one of the country's 12 senate seats, seem to be unfazed by Pacquiao's rhetoric. Senator Juan Ponce expressed support for Pacquiao, saying, "It's better for [gay people] to go to planet Mars."
"Pacquiao has clearly offended the lesbian, gay, bisexual and transgender community with his comments on same sex marriage, but this group represents a minority and this will not affect the boxer's popularity among the voters," Benito Lim, political science professor at the Jesuit-run Ateneo de Manila University, told Reuters.
"He may still win in the elections."
Many ordinary Filipinos believe Pacquiao made a mistake in his remarks on same-sex marriage because he hurt some sensibilities.
Many are more interested in what happens in April, when Pacquiao tries to win back the WBO welterweight title he lost last year to Floyd Mayweather. […]
"The criticism against Pacquiao has no effect on us," said Annabelle Magsipoc, a government employee, told Reuters Television, adding that the boxer retains popular support in the community.
"Actually, many people really wanted to say what Pacquiao said about same-sex marriage, but some people are trying to make this an election issue," she said.
Of Nike's decision to end its relationship with Pacquiao, the boxer says, "Whatever decision Nike makes is its decision and I respect that and its sponsorship of me now only involves my clothes for my fight. Our contract has already ended aside from sponsoring the boxing."
Pacquiao added, "I am not condemning the LGBT. What I am condemning is the act. I'm happier because I'm telling the truth … It's worse if we will hide the truth. I'm happier that a lot of people were alarmed by the truth."
On Tuesday, Pacquiao offered only a half-hearted apology for his anti-gay comments, saying he was sorry if he hurt anyone. He added that he was praying for those he hurt.
Watch Pacquiao's initial remarks that set off this latest firestorm, below.