IOWA. The Caucuses are now underway! Check back HERE for the latest updates.
EYE IN THE SKY. Dutch police may soon use tactically-trained eagles to intercept illegal and hostile drones: "A police spokesperson told Dutch News.nl that the effort remains in a testing phase, but called the use of birds to combat drones a 'very real possibility.'"
MIDDLE EAST. PRI reports that the number of civilians killed by the US in its airstrikes against ISIS could be dramatically higher than current Pentagon estimates: "In almost a-year-and-a-half of bombing Iraq and Syria, the United States admits to killing just 22 innocent people. An independent monitoring group says the real figure could be more than a thousand. The explanation for the US military's impossibly low number can be found in the very way it investigates its own airstrikes. A CENTCOM spokesman told us that all civilian casualties were investigated — even if something as insubstantial as an anonymous post to Twitter was the only source. But some US investigations were cursory at best, amounting to what appears to be willful blindness. In an airstrike on one Syrian village — also detailed below — it seems that simple confusion over place names meant that civilian casualties were never investigated and were left uncounted."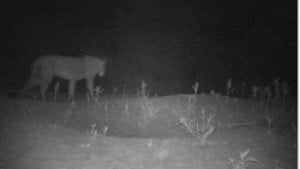 NATURE. For the first time, lions have been spotted in Ethiopia's Alatash National Park confirming local stories that big cats have long-roamed this area: "Part of the reason the lions have gone undiscovered for so long by outsiders is that the area is rarely visited. Even the International Union for Conservation of Nature only considered Alatash a possible range for the species…Researchers say the next step is alerting government officials in Ethiopia and Sudan about the discovery, so they can embark on possible efforts to conserve these populations and better protected these areas.
BLACK HISTORY. Today marks the beginning of Black History Month. "Black history is living history."
GROWING PAINS. Tracey Gold addresses her Twitter feud with former co-star Kirk Cameron over gay marriage. 
JUNKET. Dakota Johnson and Leslie Mann hilariously flirt with a hot reporter from Miami: "You look like you have really big muscles."
MUSIC & LYRICS. Adele does not like Donald Trump playing her music at his rallies.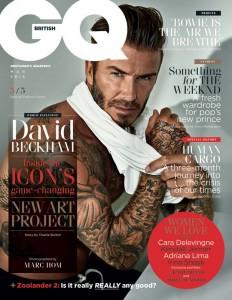 NEWSSTANDS. David Beckham bares his tattoo-ed flesh for British GQ. 
SCIENCE. UK approves request to edit the human genetic code to understand how embryos form. Critics say scientists are crossing too many ethical boundaries: "The Human Fertilisation and Embryology Authority announced Monday it has granted a research application to a team led by scientist Kathy Niakan to try to understand the genes that human embryos need to grow successfully, which could potentially help prevent miscarriages. Scientists say gene-editing techniques could one day lead to treatments for conditions like HIV, which causes AIDS, or inherited diseases like muscular dystrophy and sickle cell disease."
BIG PHARMA. AIDS Healthcare Foundation (AHF) and the Massachusetts AG sue Gilead Sciences. AHF says Gilead delayed producing a new, safer version of HIV drug tenofovir to maximize profits. Massachusetts meanwhile accuses the company of overcharging for its hepatitis C drugs.
WORD SALAD. Sarah Palin loses it during Today show interview in which her comments about blaming President Obama for her son Tripp's arrest on charges of domestic violence: "I never said that. Let's start piece by piece. You guys brought me here to talk about Iowa politics and the caucus tonight, not to talk about my kids. And that was a promise. But as things go in the world of media, you guys don't always keep your promises, evidently. I never blamed President Obama."
MALE MODEL MONDAY. Meet Sean Stahlnecker. 
https://instagram.com/p/BABEK3jlVxi/