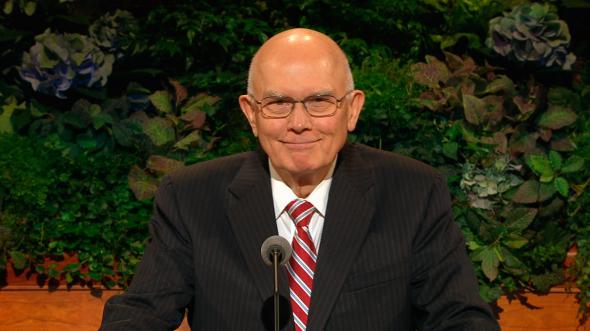 A Mormon leader says the question of whether the church is responsible for a rash of LGBT youth suicides in the wake of its new anti-gay policy will be answered on judgment day.
Mama Dragons, a support group for Mormon parents with LGBT children, reported last month that 32 church members ages 14-20 had committed suicide since the policy was unveiled in early November. The policy labels people in same-sex marriages "apostates" and bars their children from being baptized until they're 18 and disavow their parents' relationship.
The Church of Jesus Christ of Latter-day Saints issued a formal statement in response to Mama Dragons' report, but Elder Dallin H. Oaks, a member of the Quorum of the Twelve Apostles, was the first Mormon leader to address the issue publicly when he was asked about it by audience member Andrew Evans following a speech in Washington, D.C., last week.
Here's the full exchange, via the Mormon Stories podcast:
Evans: "Less than a year ago, right here in Washington, DC, my friend killed himself. He was Mormon and gay. You've gone on record that the church does not give apologies. Does religious freedom absolve you from responsibility in the gay Mormon suicide crisis?"
Oaks: "I think that's a question that will be answered on judgment day. I can't answer that beyond what has already been said. I know that those tragic events happen. And it's not unique simply to the question of sexual preference. There are other cases where people have taken their own lives and blamed a church – my church – or a government, or somebody else for their taking their own lives, and I think those things have to be judged by a higher authority than exists on this earth, and I am ready to be accountable to that authority, but I think part of what my responsibility extends to, is trying to teach people to be loving, and civil and sensitive to one another so that people will not feel driven, whatever the policy disagreements, whatever the rules of the church, or the practices of a church, or any other organization, if they are administered with kindness, at the highest level or at the level of the congregation or the ward, they won't drive people to take those extreme measures; that's part of my responsibility to teach that. And beyond that, I will be accountable to higher authority for that. That's the way I look on that. Nobody is sadder about a case like that than I am. Maybe that's a good note to end on."
Evans' question followed a speech from Oaks about the importance of so-called "religious freedom," which has been used widely in recent years to justify discrimination against LGBT people. The Mormon chruch-owned Deseret News reported on Oaks speech:
Everyone has the right to freedom of thought, conscience and religion; this right includes freedom to change his religion or belief, and freedom, either alone or in community with others and in public or private, to manifest his religion or belief in teaching, practice, worship and observance." …
Elder Oaks then declared that the "religious teachings" and "religiously motivated actions of believers" are valuable to society. They deserve special legal protections.
"This point of course contradicts the advocacy of some secularists that religion is mostly a matter of history without significance in modern times, or, more ominously, that religion is irrational and discriminatory and therefore should be repressed in both public expression and influence," he said. "Far from relics of the past, religious principles and religious believers are a vital present and future force everywhere."